This is a list of Sherwood family history interests arranged by Country and County (for England, Wales & Scotland) which will be added to as researchers send them to me. See also those listed in the sample Newsletter and those on Mark Sherwood's interests page. Click on the bookmarks below to go to the appropriate Country:
England
America
Australia & NZ
Canada
South Africa
Kent
, of Weymouth, Dorset is tracing his Sherwood family in the Ashford area of Kent ca1550 to 1920. Click here to see family tree or here to download a GEDCOM file (45k) of my Sherwood ancestry. You can also view a Google Earth map showing where the family lived at various times.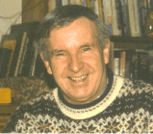 I live in the seaside resort of Weymouth in Dorset on the south-west coast of England with my wife, Tomasa. We have a son, Darren and a daughter, Annette. I am a retired Metallurgist & Materials Scientist, born 1939 in Cheshunt, Hertfordshire about 15 miles north of London. Like most people, I had taken little interest in my family roots in younger life, but in 1988 my wife gave me a book on tracing ancestry, and so began what has become an absorbing & very fulfilling hobby. At that stage my tree only extended back to my grandparents, all I knew was that my father's family originated from the Ashford area of Kent, and my mother's CARTER line from Stevenage, Herts. I began by joining my local society the Somerset & Dorset FHS, and then widened this to include the Wilts FHS, the Kent FHS, and the Society of Genealogists. In 1995 I joined the Guild of One-Name Studies and registered my own name plus SEAGROATT which is my wife's maiden name. I have served on the executive committee of the S&D and am currently the census indexing co-ordinator. My other surname interests are IMBER in Wilts & Dorset, CARTER in Welwyn/Knebworth, Herts 1740+, KIDDLE in Herts & Lincs back to 1340, SHETTLE/SHUTTLE in Wilts & Hants and TROTT in Somerset & Surrey. When I can fit them in, my other interests are chess, listening to classical music, opera & photography, and of course computers.
Click here to read about possible links between Sherwood families in East Kent.
~~~~~~~~~~~~~~~~~~~~~~~~~
From the Sydney Telegraph newspaper 2003:

"WILLIAM SHERWOOD" I am searching for the descendants of William and Emma Sherwood, married 1863 in Queensland. William was born c 1826 Kent, England, and Emma in 1839 London. Their children were: Josephine born 1864 Qld. and married a Hyde,
Emily Mary born 1865 Qld married John Paxton in NSW, William Charles born
and died 1867-1868, Louise born 1868 Qld married John Cyril McGowan, Sarah
Jane born 1870 Qld, Matilda born 1872 Qld and William Frederick born 1876
Qld married Violet Ethel Brown in Victoria. I believe Emma Rebecca died in
Victoria and that William Snr did also. If you have any information on
descendants please contact Kim on 0439 403 233 or 198 Wooli Rd, Tucabia, NSW
2462, or kim_r81@hotmail.com "
---
Berkshire
A number of researchers are seeking the origins of John Sherwood who married Ann Maskell 7 Oct 1791at Reading St.Giles. The main one is Rachel Gill . Also Caroline Holdroyd in Newmarket, Ontario, Canada and Bob Folley in Gloucs. John & Ann had a large family with many descendants, many of whom were Stone Masons. Their baptisms & marriages are mainly on the IGI at St.Giles & St.Mary's.
Middlesex
Leon Edward Sherwood, great grandson of James Frederick Sherwood (clothier by trade) and Mary Anne Sherwood (nee HODGES) seeks information about James Frederick and any family including son Thomas Edward born 27 October 1868 at 7 Peel Place, Kensington, London Middesex. Would be interested to know of any siblings of Thomas Edward also. Where were they in the 1851 and 1861 census?

---
Surrey
THE WEST SURREY SHERWOOD FAMILY OF PAT COLE
This article was written by our long-standing member Mrs Pat Cole of Birchington in Kent.

Thanks to the help of a wonderful team of people who work tirelessly to produce Indexes for the members of the West Surrey Family History Society (these include Cliff Webb, Bob Mesley, Philip Arnold, Peter and Rosemary Cleaver and the late Colin Perris) I believe I now have a pretty good picture of my maternal grandmother's Sherwood family, back at least to circa 1650. They were never rich, neither did any of them get into any serious trouble, nor live below the poverty line very often or for very long. But I suspect that most of the men may have had a certain type of character (charm?) that won over their prospective wives and in-laws, some of whom were slightly more wealthy than themselves.

As an example, in 1818, five years and five children after my 3x Gt-grandfather Francis Sherwood married Elizabeth Taylor in the Parish church of Thames Ditton, he received temporary relief of £1 from the Parish, with further sums paid to him between 1819 and 1820. At that time his father-in-law Daniel Taylor was paying fairly substantial sums as Rates on his House and Land in Claygate. In addition, in 1834 Rates on a cottage known as "Sherwood Cottage" were paid by Mr Taylor. But by 1839 Francis was in a position to pay Rates on his own House and Premises, with a further payment for Land added in 1843. (This information researched by Joan Hardinges.)

In the same year, (1818) Francis' brother John, a gardener, claimed that two years earlier he had rented two cottages and a garden from his father James in Chertsey, where the father was still living. Since, from the Woking Burial register, it seems that James' father Richard died a pauper in 1793 (his wife Elizabeth having died 5 years earlier) one wonders how James acquired seemingly three properties in Chertsey, unless perhaps he or his wife Elizabeth had benefitted considerably from her father Henry Roake's Will (died circa 1798). Unfortunately no Will of Henry Roake has yet been found.

EARLIEST SHERWOODS IN RURAL SURREY

There were, it seems, only two Sherwoods of note in the County of Surrey in the 16-18th centuries. First recorded, according to Manning & Bray's History & Antiquities of Surrey, was George Shirewood, Rector of Holy Trinity, Guildford, Installed 28.4.1558, with patrons King Philip and Queen Mary. The other was a Henry Sherwood who, by his Will proved in 1721, left land with annual produce of £6 "towards clothing 3 poor men and 3 poor women of Chertsey"– but all trace of it was lost (by 1734, according to the Victoria County History). So perhaps he wasn't so noteworthy after all! However, there was a John Sherratt, MA, incumbent at Byfleet between 1604 and 1605, and this name, I have found, later "became" Sherwood in several West Surrey parishes.

Which version was the true root in Rural Surrey I can't say, but although my grandmother's maiden name was quite clearly pronounced Sherwood I recall that whenever she spoke of Tolworth where she was raised and educated, she always pronounced it "Toll'orth" (omitting the "w") – and I found a recording about Tolworth in the Surrey Poor Law records spelt the same way. Presumably this was a common habit in Surrey, and one can see from this how earlier, less educated Sherwoods may have become Sherrards in the Parish records, and a lightly pronounced "d" at the end would produce the spelling "Sherratt".

My own story begins in Woking in the mid-17th century, and at that time, right through until the end of the 18th century, the name was recorded there as SHERRATT or SHERRETT. Faced with all of the evidence I've been able to gather there can be little doubt that the 17th and 18th century Sherretts of Woking , and the 18th and 19th century Sherwoods of Horsell and Chertsey were of the same family.

One John Sherratt in particular, who appears to be a x? Great-uncle of mine, was stated in the 1771 Settlement records of Chobham to have been born in Woking, where he was registered under the same variant (Sherrat). But in the Chobham parish registers we find his family recorded variously as Sherrard and Sherwood. And in neighbouring Horsell his children were found in the Christening register under Shearwood or Sherwood. (His settlement examination revealed that for part of his life he had worked as a servant in Warnborough, Hampshire.)

Also, in Val Walduck's Pirbright family (who, we are now pretty certain, were related to mine) there were entries as "Sherratt" and "Sherratt/Sherwood" in the Parish Register. There was also confusion over the name of William Sheratt's wayward wife Sarah. In Pirbright she was recorded as Sarah Budden, but in Woking where they were married on the 13th of May 1781 (isn't this date supposed to be unlucky for weddings?) she was Sarah Botten - and he was William SHERRARD. There is just one more example of how the name can vary in Surrey. In Guildford from the early 18th century there was a family of a Richard Charret/Charrot…. But we wont go into that here.

THE SHERRETTS OF WOKING

The first known appearance of Sherretts in Woking was a Will of Ralph, probated in 1571, followed in 1572 by that of a John Sherrett. Eight years later (1580) there was a Will of another John Sherrett, and as this appeared in the West Surrey Indexes to Wills with an Inventory I decided to ask for a copy, just out of curiosity. Surprisingly, the copy of the Will had been written in the name of John SHADDETT, but with alteration to Sherrett certified at time of Probate! There had been a John Shadhet in the Parish some fifty years earlier, and a Brass memorial commemorating his death lies in the church of St Peter. In this case it's obvious that the "scribe" had confused the two names. In 1587 there was a Will of a William Sherrett , Yeoman "of Crastock Manor", which lay to the South of the parish, and this line of the family can be seen holding the Manor until the end of the 17th century.

However, the start of my own line of any probability coincides with the earliest surviving Woking Parish Records in the 1650s, with a WILLIAM SHERRETT who lived in the Goldsworth tything, to the North of the parish, and closer to the parishes of Horsell and Pyrford. William had a son JAMES christened in 1659, and I believe it was he who was recorded later as a husbandman of Hale End and Goldsworth. No recordings of marriages have been found for either William or James, but William died in 1664. James had nine children christened between 1685 and 1710, and died in 1721.

James' son RICHARD "of the Hermitage", Goldsworth, was my next believed ancestor. Christened on the 26th April 1697 his first wife was named Ann, and they had twins Ann and RICHARD, born on the 29th October and christened on the 4th of November 1723. Sadly, two days later the wife Ann died.

Widower Richard later appeared in the records with widow Jane Russell, and they had a further four children christened between 1732 and 1742. The first only of these was stated as baseborn, but no marriages of Richard Snr have so far been found, either to Ann or Jane. Richard died in October 1742, four months after his last daughter was born, but Jane married again in 1754.

Richard and Jane's son John, chr in 1736 in Woking, married Margaret Lee in Horsell in 1762, and it was this John who later settled in Chobham. But it was the twin RICHARD (Junior), son of Ann, who I believe was next in my ancestral line. Stated as Richard Sherrard of Woking, he married Elizabeth Bennet on the 20th April 1748 in Ockham. Elizabeth was most probably a daughter of John Bennet of Ockham, christened 11.12.1732, and if so, married when only sixteen. They had nine children between 1749 and 1767, of which the eldest son JAMES, born on the 5th and christened on the 10th March, 1750, was my (most likely) 4 x Gt-grandfather. All of these children were christened in Woking, and both Richard and Elizabeth were buried there.

We believe that James' brother William, christened on the 28th August 1757, was the fated husband of Sarah Budden mentioned above – Val Walduck's family. He died/was buried in Pirbright in 1799. And it's possible that another brother, Richard, christened 16.2.1755, was married in Arundel, Sussex to Rebecca Roberts 8th August 1789. They had three children christened in Arundel: Lucy, 1790, Mary, 1792, Henry, 1801; and in Lewes: James, 1794. Then another daughter Lucy was christened in Brighton in 1808, the first presumed died in infancy. Note the similarity in names to mine in Chertsey below.

JAM

ES SHERWOOD OF CHERTSEY

In order to rule out any possibility that JAMES SHERWOOD "of Chertsey" might have come from across the river, rather than from Woking, I have taken the precaution of searching the christening records of Staines and its surrounding Parishes. Only one Sherwood family appears in the 10-year period surrounding James' likely birth-year calculated from his age at death in 1823. This was the family of Francis who married Elizabeth Hawlins in Horsell in 1746. His seemingly only son, Edward, plus six daughters were all christened in Staines. Then on the 14th February 1759 Francis, presumably then widowed (information obtained from Indexes), married Sarah Roberts "of Ashford". No other signs of any Sherwood/Sherrets appear in the seven parishes searched during that period although on the 1st June 1590 a William Sherett (of Woking, died 1607?) married Joan Urlewyn in Sunbury. But of course there can still be no guarantee that James didn't come from further afield. When JAMES married "Bett" (christened Elizabeth Roake) in Horsell on the 4th February 1777, Bett was barely sixteen. Her mother had died only the previous year, and Bett was already pregnant with her first child - a daughter who they named Betty, christened in Horsell on the 25th June 1777 and recorded under surname SHEARWOOD.

James and Bett's next two children were christened in Chertsey, James in 1779 and Mary (after Bett's sister?) in 1780. John (a name that had come down through several generations in Woking) FRANK, Lucy and Jenny (a "nickname" version of the family name Jane, which goes back to Richard Sherrett's second wife Jane Russell) were christened in 1785, 1788, 1790 and 1793 in Pyrford, the home parish of Bett's father Henry Roake until his death in 1798, and where he is known to have inherited land. And the last two children, Luke and Richard (after James' father?) were christened back in Chertsey in 1795 and 1797.

James Sherratt/Sherwood (Snr) was mentioned in the Land Tax Assessments of Surrey between 1780 and 1832, as were Widow Sherwood (presumably after James' death in 1823), and Luke – all with property in Chertsey. (Luke married Elizabeth Hampton on the 1st July 1818 in Horsell.) William Sherratt, a Widow Sherratt and a Thomas, all of Pirbright, were also mentioned there.

From Poor Law Records of Surrey an entry on the 20th September 1818 (or was this 1820?) states: "John Sherwood of Chertsey, Gardener, with Frances (nee Lower) his wife (married 12 years ago) and five children, Charles, 9, Frances, 7, John, 5, Felix, 3, and Shadrach, 2. In 1806 was house servant to William Walsingholme of Hartfield, Sussex for 15 months. In 1816 he rented two cottages and a garden from his father in Chertsey at £10 per annum. John Baker of Woking, yeoman, states the above tenements are not worth more than 8 guineas per annum - 5 guineas for one and 3 guineas for the other." John and Frances Lower had married in Litlington, Sussex on the 10th October 1808. They had at least three more children after 1818: James chr in 1819, Thomas chr in 1820, Susannah in 1825 and Henry in 1828. And there was another daughter Jane chr in 1810, presumably died in infancy. All were christened in either Chertsey or Byfleet.

James Junior (chr. in 1779) married Phoebe Gray in Chertsey 9.4.1801, and they too had several children christened there. It's believed that the youngest son Richard married and went to live with his wife Ann in Windlesham where they had several children christened between 1820 and 1845. However, just before that, again from the Poor Law records of Surrey: "Richard Sherwood, Blacksmith, born in Chertsey where his father is settled" appears under Chertsey Settlement Examinations where an entry of 4.2.1818 states that Richard was apprenticed on the 8th March 1813 to Henry Boylett of West Molesey, Blacksmith, and stayed four years. I feel this gives some credence to my assumption that it was Richard's sister Betty/Elizabeth (Chr 1777) who married Robert Pagge on the 15th October 1797 in Thames Ditton, which lies as a neighbouring parish to Molesey, and with the help of repeated "family" first-names, that it was his brother Frank/FRANCIS who was my 3x Gt-grandfather, marrying Elizabeth Taylor in Thames Ditton on the 4th January 1813.
---
Ben H. Sherwood <ben@bensherwood.net> says:
"I have been doing a lot of research on my Sherwood ancestors and have a lot of information that I plan to put on the Web. My Great X 8 Grandfather was Hugh Sherwood who was born in England in 1632. His father was Francis Sherwood who also came to America. Hugh settled in Talbot County, Maryland in 1661 and started a tobacco plantation. Talbot County is on the Eastern shore of the Chesapeake Bay. Hugh lived near St. Michaels, Maryland. He received land grants from Lord Baltimore and before he died he owned hundreds of acres of land. Hugh was literate and an inventory of his personal belongings when he died showed several books. He was a Vestryman
at St. Michaels Parish and was also involved in the Maryland government as a representative of Talbot County. His son Daniel was a very successful landowner and tobacco grower and was also High Sheriff of Talbot County. Daniel III served in the Maryland Militia until 1778 when his enlistment was done. He and his wife then sold the family plantation and moved to Guilford county, Maryland. One of his sons then moved to southern Indiana in 1818 and helped pioneer that state. His great, great grandson was my grandfather. I was born in Indiana but my parents moved to Illinois when I
was 3." (Click here to visit Ben's website & see a picture of him)
Robert S. Lepper Sr.
I have been looking for ancestors of George Wesley Sherwood. (Bio below) He was born in Romulus NY in July 1833. I do not know why he went to Farm with his grandfather or what happened to his parents. Can anyone help ??
The godfather of business interests at Englewood in Chicago, Ill., he lived and farmed with his grandfather near Adrian, Mich. until age 16 when he apprenticed himself as a machinist to learn the trade. At 21 he went to work in the shops of the Michigan Southern and Lake Shore Railway at Adrian, Mich. Three years later in 1857 he moved to Chicago where he remained until his death in 1894. He worked in the shops of the Rock Island RR, a locomotive engineer for the Pittsburgh and Fort Wayne Railway Co., the Blue Dummy, The Novelty, and the Michigan Southern Railway between Chicago and Elkhart, Ind. In 1872 he moved to Englewood, then called Junction Grove, and now centered at 63rd & Wentworth in Chicago. In that area he built the first hotel, the Sherwood House which was followed after the fire as the Sherwood Flats. He built and operated the first and second livery stables in that area. The first omnibus, and express line between Englewood and Chicago, the first boot and shoe shop, the first meat market, the first barber shop, the first drug store, the first ice route, and the first sprinkler route. George Wesley, like most others, lost all his buildings except his house at 6317 Wentworth Ave. to the Chicago fire, but unlike most others he was well insured and was able to recover his losses. He died of heart disease on September 4, 1894 and was buried at Oakwood Cemetery.
Origins of early Sherwood Settlers in the Swan River Colony
From Margaret Love in Perth WA
I was extremely intrigued in May 1999 when Phil reported that Harold Booty had found, in Holland's London and County Directory of 1811, a listing for a Richard and Peter Sherwood, Bricklayers of 10 College Road Narrow Wall. Was this my 3XGreat Grandfather Richard I wondered? Was this a clue to finding the rest of his family? I wrote immediately to Harold Booty who answered in his inimitably warm style, giving me the name of his researcher. Mr Richard Williams is a first class genealogist and knows the London records very well. Much ink has been spent since as he has attempted to knock over my "brick wall".
We already knew that Richard was a bricklayer and that in the years between 1818 and 1843 he, and later his son Frederick, had a business at 20 Cornwall Rd., Lambeth, just around the corner from Narrow Wall. (Frederick migrated in 1843, with his family, to Western Australia.) The trouble was that all our pioneering antecedents had always said that they "came from Poole, Dorset". Exhaustive searches through the Dorset County Archives research service and then by the super-sleuth Phil have failed to show any sign of the family there. Several important details were found by Mr Williams including the 1831 burial (at St John's Waterloo) and the will of Richard (at the PCC), in London. He also found the marriage of Peter to Jane Spencer and the baptisms of all of their children at St. Martin's in the Fields church registers. Finally, on the off chance he did a wider search for any family with sons Richard and Peter anywhere, who fitted the right time slot. These showed up in Baldock, Hertfordshire, the sons of James Sherwood (Sheerwood) and Ann Bailey. As several of the London Peter's descendants carried the given name Bailey it seems certain that this is the right Peter. But is it the right Richard? None of our Richard's descendants have the same names as Peter's. (Peter's descendants are now in Queensland, Australia.) Our Richard's wife's name was Elizabeth, surname unknown. Like Richard she was buried at St. John's Waterloo, in 1842, just six months before Frederick left for the colonies. The census of 1841 shows that she lived in rooms in York St., Lambeth, was of "independent means" and that she was born "out of the county". All our best efforts so far have failed to show a marriage registration for Richard and Elizabeth in either London or Hertfordshire. (The only possibilities in the IGI are in Yorkshire and Berkshire, and there is nothing to tie them in with anything else.) It is interesting to note that the family of James Sherwood and Ann Bailey are not mentioned in the Hertfordshire records after the dates of the children's births, a situation that suggests that the family might all have moved to London soon afterwards. (Phil has traced that line back two further generations to a man called Ezekiel born in Baldock in 1675 to a Richard Sherwood and Grace Conisby.)
My dilemma now is - how to prove that this family moved to London? Or that this Richard is our Richard? Does anyone have any ideas of places to look that I can send Mr Williams to? Are there any tax records or electoral roll records for that period? Anything else? Regards to all fellow sleuths. It is fun to see how many people are out there looking for Sherwoods - and having success!.
Margaret Love