Sherwood Heraldry
The Crest

The usual crest is the one depicted in the book Crests by Fairbairn: 'A dexter hand holding a branch of a rose tree argent, slipped, leaved vert.' The Sherwood rose (of York?) is the only white one registered in Fairbairn.
Grants of Arms
A useful reference is a chapter from a book Sherwood of England 'Sherwood Notes' compiled from reprints of British Mss. and other reliable sources of genealogical research between 1878 and 1928 by Mary Sherwood Hale (US publisher & date unknown). There is a useful section on Sherwood Heraldry (1563) which describes the arms as 'Argent, a chevron between three mullets sable' which means a black chevron between three stars on a silver background.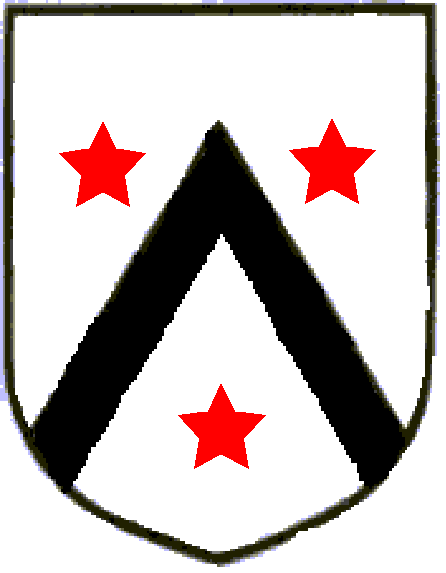 Here is a generic shield showing the typical charge; sometimes three Torteaux are used in place of mullets. There is remarkable similarity between the arms of the York, Newcastle, Berkshire & Somerset lines. Most of these lines appear to be extinct. The book Armorial Families by Fox-Davies gives on p.1137 the following for Oliver Caton Sherwood, Esq. Capt West India Regiment, born 2 Feb 1862 in India, later lived in London & Colchester, Essex: Armorial bearings - Per chevron or and two olive trees eradicated in chief proper, and as many bill-hooks addorsed in base of the first. Motto "In via sternere." This family lived in Dublin ca1780-1820, and later in Rangapatam, India where they served in the Army.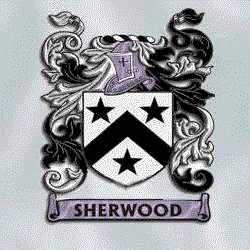 Opposite is a full grant of arms, source unknown. Another important source for Sherwood Heraldry is An Ordinary of Sherwood Arms (with crests) by G.F.T Sherwood (1924) at the SoG Library in London, which refers to the Add.MSS, Harlian MSS and Egerton MSS collections in the British Museum Library:
BARS: ... two bars gemelles between three estoiles... William SHIRWOOD, Dean of Auckland, Durham ded 1497. Eng.Coll.Rome.
Argent, two bars wavy sable on a chief gules three mullets or. - SHERWOOD of Co.Derby
BELLS: Or, frettie gules, three bells.- SHERWOOD, Warwick.
Or, fretty of 8 pieces azure, a chief gules three hawks bells of the first. - Robt.SHERWOOD S.T.P. of Mireden alias Alspath, Warw. obit 1529.
Ermine, 3 ogresses on each a mullet arg. - CHERWOOD impaled by STUCKEY & quartering SILK, BUCK, SHAFF. 29 Nov 1698 (Harl. MS.1461 fol 132) also SHERWOOD of Kent (Add.MS, 19819,fol.23)
CHEVRON-SQUIRRELS: Argent, on a chevron betw 3 squirrels sejant each cracking a nut gules as many scallops or. Crest: A stags head couped sable, gouttee arg, ducally gorged and attired or. - SHERWOOD of Nottingham & of Newcastle, Northd. Visitation of Northumberland 1575.
CHEV.- TORTEAUX: Argent a chev azure betw. 3 torteaux. Crest: a plume of 6 peacocks feathers proper. - SHERWOOD of East Hendred, Berks.
Argent a chevron betw. 3 torteaux - Philip SHERWOOD of Stapleford, Leics. Crest: A plume of 6 peacocks feathers (this, on a cap of maintenance, is the crest of MOLINEUX of Sefton, Lancs.)
The chevron gules: SHERWOOD of East Hendred, Berks. (visitn of Berks.1664-6 The Genealogist VI.88) also James SHERRARD the botanist (ob.1738) son of George SHERWOOD of Bushby, Leics.
Argent a chevron gules betw. 3 torteaux - John SHERWOOD Bishopof Durham ob.1594, also SHERARD Earl of Harborough (Nichol's Leicestershire II.343,346,353) Papworth gives these as the arms of BASKERVILLE (AD. 1262-92)
FESS-: ...a Fess, 2 buckles in Chief - SHERWOOD, Warwicks. Argent, a Fess gules betw. 3 torteaux. - SHERWOOD or SHERRAR of Co.Salop.
FLEUR DE LIS:- Or, a fleur de lis sable, on each leaf a mullet gules.- SHERWOOD impaled by PLOTT 1696.
LION- PHEONS:- Argent, a lion passant guardant gules betw. 3 pheons azure. Crest: A raven sable. - SHEARWOOD, Burkes Armory.
Ermine, 3 torteaux - SHERWOOD of Somerset 18thC.
Arms not specified:
1592 SHERWOOD, Sir Rowland "set out by Wm DAKINS a forger of arms & pedigrees" R. Lee's Visit. Notes (Add.MS.17506 fol.28).
'The General Armory' p.190 transcribed by Esralin C Amadeo gives the following for surname CHERWOOD - note the marked similarity to those of SHERWOOD:
Arms: Ermine on a chevron sable (black), between 3 ogresses, a mullet of six points, pierced of the field.

Arms of Cherwood or Sherwood
(Burke's General Armory)

Arms of Cherwood impaled by Stucky and quartering Silk, Buck, Shaff
(29 Nov 1698 Harl MSS)

Crest: A Unicorn's head Or (gold) between two laurel branches Vert (green).