Sherwood Gatherings & Reunions
Please note that our group is no longer able to organise gatherings.
Phil Sherwood
Report on the last Sherwood Gathering, 3 September 2006 at Dorchester
Sixteen members of various Sherwood familes and 30 members of the Trott One-Name Research Group gathered to enjoy an interesting day of talking about their ancestry and making some new connections. The Sherwoods represented families from London, Kent, Surrey, Hampshire and County Limerick in Ireland. Lunch was taken at the Poet Laureate Public House which is opposite the Brownsword Hall on Poundbury.
| | |
| --- | --- |
| | |
| Some of those at the gathering | Lunch at the Pub, Bill Sherwood (left) talking to Bob Trott |
About the Venue
| | |
| --- | --- |
| | Dorchester is located about 130 miles drive south-west of London with easy road & rail access from that city. It is set in very attractive countryside forever associated with one of England's greatest writers - Thomas Hardy. The venue chosen was the architecturally-interesting Brownsword Hall (shown here) which is the community centre for Prince Charles' Poundbury model village set on the western edge of the town. |
Report on Sherwood Gathering, 14th September 2003
The Sherwood One-Name Study Group held its second gathering and reunion at Guildford in Surrey, again in collaboration with the Trott One-Name Research Group who kindly hosted the event at the Stoke Horticultural Society Hall. Our thanks go to Bob Trott of Guildford for all his hard work in organizing the venue, lunch and display boards. Following a very hot summer, we were blessed with excellent sunny weather, and the day was much enjoyed by the 53 people who attended from all over England, of whom 27 were Sherwoods. Unfortunately, none of our overseas members were able to come, although several, including Margaret & John Love from Australia and Caroline Holroyd from Canada had hoped to come and sent their best wishes.
Phil commenced proceedings by giving a talk on recent developments in Sherwood genealogy and on the work of the Guild of One-Name Studies to which he belongs, highlighting the usefulness of 'A Sherwood Genealogy' in 6 volumes by George F T Sherwood, 1958 which has been microfilmed by the Mormons and can be borrowed at any of their FH centres. He also displayed his family album, and the fascinating book written by Margaret Love about her pioneering Sherwood ancestors who emigrated from London to Perth in WA about 1840. Recent research suggests that they probably originated in Baldock, Herts ca1700. Phil also brought along his laptop to display his website, and files, family trees for members to search through. Brenda Sherwood from Southampton, whose Sherwoods she has traced in Hants & Dorset, also displayed an advance copy of her soon to be published book A Forest of Sherwoods which contains many records of Sherwood families in Hampshire and neighbouring counties. There was also an excellent display of family trees and photographs by other members.
As Surrey contained one of the the main clusters of Sherwood families, these were well represented at the gathering, including no less than eight of those descended from a family living at Pirbright in the late 18C. They had a number of cousins who were delighted to meet for the first time; a Harry Sherwood of this line was transported to Tasmania in 1819 and has many descendants in Australia, including our founder member, Val Walduck in Queensland. The Sherwoods of Woking and Chertsey were represented by Pat & Cliff Cole who mounted an excellent display.
Phil was also delighted to meet two of his Kentish cousins, Sue Marshall and Elizabeth Johnson for the first time. There were also representatives of the lines from Norfolk & Suffolk, Reading in Berkshire, London and Northamptonshire. A list of those who attended, including their interests is as follows:
Philip & Tomasa Sherwood Ashford area of Kent 1570+
Bob & Carole Folley Reading area of Berkshire 1790+
Derek & Rosemary Sinclair Pirbright, Surrey pre 1800
Mark Sherwood Lowestoft, Norfolk & Suffolk 19C.
Richard & Sue Marshall Ashford area of Kent 1570+
Cliff & Pat Cole Chertsey & Woking, Surrey 1650+
Peter & Eileen Sherwood Pirbright, Surrey pre 1800
Brian & Janet Sherwood do. (brother of Peter)
John & Clare Sherwood do. (brother of Peter)
Michael & Gloria Taviner Chertsey & Woking, Surrey 1650+
Jan Wood Rushden, Northants.
Della Smith do. (cousin of Jan)
Graham & Elizabeth Johnson Ashford area of Kent 1570+
John & Brenda Emmerson South London, Woolwich & Charing, Kent
Peter & Brenda Sherwood Dorset & Hants.
After a delicious buffet lunch with desserts we had a session for group photographs, some of which are shown below. We plan to hold our next gathering (which is open to all Sherwood researchers) in September 2006 in the historic cathedral city of Salisbury in Wiltshire, and hope to see even more of you there.
Phil Sherwood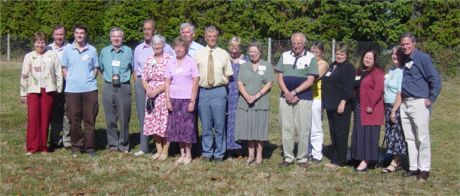 Some of the 27 Sherwoods who attended. Left to Right: Clare & John Sherwood, Mark Sherwood, Phil Sherwood, Peter Roy Sherwood, Elizabeth Johnson, Sue & Richard Marshall, Peter Sherwood, ? Sherwood, Pat Cole, Derek Sinclair, Brenda Emmerson, Della Smith & Jan Wood (cousins), and Carole & Bob Folley.
| | |
| --- | --- |
| | Kentish Cousins meet for the first time: left to right: Phil Sherwood, Elizabeth Johnson, Sue Marshall and Phil's wife, Tomasa. |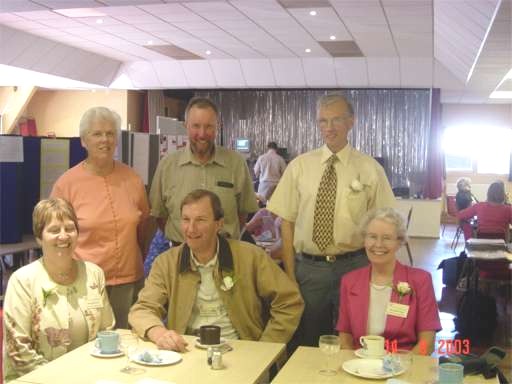 Some of the Pirbright Sherwoods: Left to Right seated: Clare, John, Eileen. standing: Janet, Brian, Peter.

Sherwood Gathering at Southampton 11th October 2003
Brenda Sherwood of Sarisbury Green with her husband Peter organised a gathering at Sarisbury Green Community Centre near Southampton, Hants. More than 50 people sharing the family name of Sherwood travelled from all across Hampshire, Isle of Wight, New Forest, Dorset, Berkshire and London to add their names to the family tree. The get-together coincided with the publication of a book A Forest of Sherwoods by Brenda who has traced her husband's line back to John Sherwood who was born in Hants in 1760. If you would like to by a copy of her book price £15.50, call 01489 572939.
The press photo below shows family members with Brenda holding her book.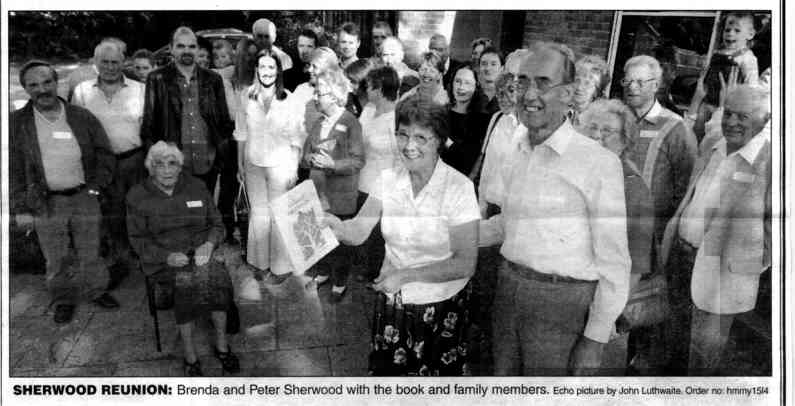 Millennium Gathering in 2000
Our Sherwood One-Name Study Group held its first International Gathering on 17th September 2000 in Taunton, England together with members of the Trott One-Name Research Group which Phil also belongs to.
The major event for our group this year was without doubt our very enjoyable gathering held in Taunton with the Trott Society. Unfortunately the gathering coincided with one of the worst fuel crises in Britain which meant that a number of members were unable to get to Taunton by car. However we were pleased to welcome 4 non-members, Mr & Mrs Howells and Mr & Mrs Cole who had heard about the meeting through the local press. Altogether there were 9 Sherwoods and about 50 Trotts. It is hoped to hold our next gathering in 2003 in Guilford, Surrey; please make a note of it and let me know if you are interested in attending.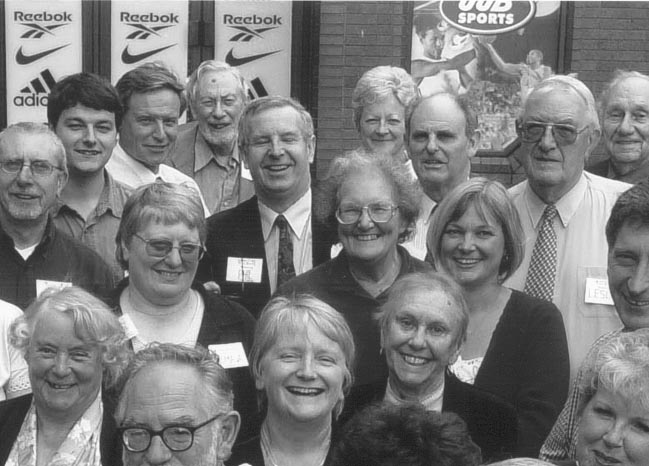 Just some of nearly 70 Sherwoods and Trotts who met up on 17th September at Taunton Library in Somerset for a family-tree fest! Back row 1st from left: Mark Sherwood, 2nd Bob Folley, and 4th Phil Sherwood (with tie). Middle row below Bob is Phil's wife Tomasa, and front row below Phil is Bob's wife Carole. For us Sherwoods, it was our first gathering, but for the Trotts their 5th. The Sherwoods enjoyed lunch together at a restaurant next to Taunton Castle. There was an excellent display of family trees, photos, & heraldry, and the two family groups mixed well making it a very enjoyable occasion which we intend to repeat in 3 years time at Guildford. Three Trotts came all the way from Canada! Lets hope some of our overseas members can come next time. Our long-term member Pat Cole of Birchington, Kent was unable to make it in person to the gathering but was certainly with us in spirit, sending her family chart with her photo & nice card wishing the venture well. Thanks also to Margaret, Val , Ken & Mona who sent their greetings and news.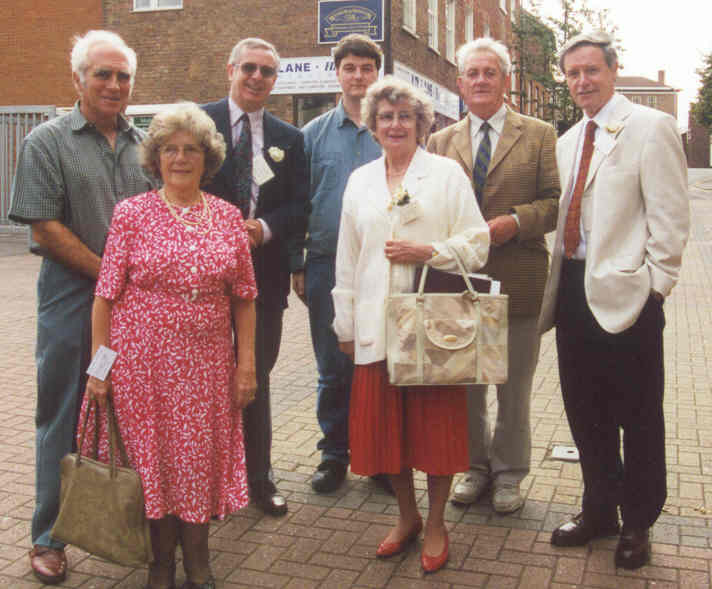 List of those attending the Sherwood Millennium Gathering at Taunton on 17th

September 2000
Name Sherwood Interests

Philip J Sherwood Ashford area of Kent 1670+


Mrs. Tomasa Sherwood

Bob Folley Reading area of Berkshire


Mrs. Carole Folley

Derek Sinclair Pirbright, Surrey pre 1800


Mrs. Rosemary Sinclair

Mark Sherwood Lowestoft, Norfolk & Suffolk 19C.

Joy Howells (nee Sherwood) Sherston, Wilts 19C.


Norman Howells

Rosaleen Cole (nee Sherwood) Sherston, Wilts 19C.


Mike Cole