Military Sherwoods
This page is a collection of military records for any Sherwoods who have served in the armed forces of any country around the world. If you have some interesting Sherwoods, or have extracted records or links, please send them to Phil Sherwood for inclusion on this page. Frederick Sherwood (left), born 1877 near Canterbury, Kent was a brother of my grandfather, and a professional soldier in the British Army. He enlisted in 1896 in the Royal Army Service Corp. for 12 years, and served in South Africa 1899-1903 (Boer War) and also in the first World War. His documents are in Class WO363 at TNA Kew. He is shown here as a Corporal in WW1.

Private William Richard Sherwood (shown right) born 24th March 1893 in Co Limerick, died 5th November 1914 Ypres, 1st Bn., Irish Guards. He is the uncle of David & Kate Sherwood of Camberley, Surrey who kindly supplied this photo. These Sherwoods descend from Henry Sherwood ca1825 who lived at Oldcastle, Co.Meath, Ireland.
N.B. Use the Find option (Ctrl+F) to search for a name or place on this page.
Contents:
Sherwood at Battle of Waterloo
Sherwoods at Trafalgar & Napoleonic Wars
Awarded the Victoria Cross
Crimean War
Boer & other African Campaigns
British Army:
WW1 Soldiers Documents (WO363)
Army Enlistments in Surrey 1908-1933
Battle of the Somme, 1st July 1916 - A lost generation
British WW1 Records on Ancestry
American Military
A SHERWOOD KILLED AT THE BATTLE OF WATERLOO, 18 JUNE 1815.
From the book Charging against Napoleon by Eric Hunt (ISBN 0850528275) p.279 there is a Sherwood listed who died at the battle of Waterloo: Lt. Isaac Sherwood, Served from 1809 to 1814 and was an Officer of the 18th Hussars (1808-1815). Campaigns:1813-14, Waterloo, and was killed in battle. (Cornet 1809, Lieut. 1810). Also listed under Light Dragoons or 13th Kings Hussars.
SHERWOODS AT THE BATTLE OF TRAFALGAR
Below is a list of Sherwoods that were involved in the Battle of Trafalgar and is from the web site http://www.ageofnelson.org/
James, Boy 3rd Class born Kent
John, Private Royal Marines
John, Private Royal Marines, born Great Malvern, Worcester
John. Ordinary Seaman born Monkston
William. Able Bodied Seaman born Gt. Roddam, Norfolk
A SHERWOOD AWARDED THE VICTORIA CROSS IN 1917
From Wikipedia, the free encyclopedia

John Sherwood-Kelly (VC, CMG, DSO) was a South African recipient of the Victoria Cross, the highest and most prestigious award for gallantry in the face of the enemy that can be awarded to British and Commonwealth forces. Born: Queenstown, Cape Province, South Africa, 13 January 1880. Died: 18 August 1931, Kensington, W London. (If anyone knows of his ancestry, please tell Phil Sherwood!)

He was 37 years old, and an Acting Lieutenant Colonel in the Norfolk Regiment, British Army, Commanding Officer 1st Battalion, Royal Inniskilling Fusiliers during the First World War when the following deed took place for which he was awarded the VC.

On 20 November 1917 at Marcoing, France, when a party of men were held upon the near side of a canal by heavy rifle fire, Lieutenant Colonel Sherwood-Kelly at once ordered covering fire, personally led his leading company across the canal and then reconnoitred, under heavy fire, the high ground held by the enemy. He took a Lewis gun team, forced his way through obstacles and covered the advance of his battalion, enabling them to capture the position. Later he led a charge against some pits from which heavy fire was coming, capturing five machine-guns and 46 prisoners.

His Victoria Cross is displayed at the National Museum of Military History (Johannesburg, South Africa).

References
Monuments to Courage (David Harvey, 1999)
The Register of the Victoria Cross (This England, 1997)

Location of grave (shown Left) at Brookwood Cemetery, Surrey
http://www.homeusers.prestel.co.uk/stewart/brookwoo.htm
The Brookwood Cemetery Society (Known Holders of the Victoria Cross Commemorated in Brookwood Cemetery)
Launcelot Vincent Stoneham Sherwood, D.S.O. and Bar
Born 1900 in Chiswick, Middx son of James Isaac & Ethel Lily Sherwood of 3 Flanders Rd, Chiswick (1901 census). He had an older sister, Ruby B born ca1899. He is related to the above Lt. Isaac Sherwood who died at the Battle of Waterloo, and eventually attained the rank of Brigadier in the Indian Army. Here is an abstract of his citation held at The National Archives, Kew (Class WO373/29:
10 Indian Inf. Brigade, 5 Indian Divn, 4th bn. (DCO) 10th Baluch Regiment, Date 19 Oct 1941.
For conspicuous gallantry & dash in the fighting in Sudan & Eritrea. Major SHERWOOD is again recommended for the award of the D.S.O. particularly for his gallantry in the fighting of BARENTU.
On 30th Jan 1941 on Five Tebaldi Ridge when 90 men of 4 Baluch in a defensive position were twice strongly attacked by greatly superior enemy forces, Maj. SHERWOOD was instrumental in organizing the defence & beating off the first attack. He then led a counter attack which drove off the enemy and though himself wounded continued to direct operations on his sector of the front. During the second enemy attack Major SHERWOOD in one of the foremost posts, was again wounded. This officer displayed a complete disregard for his personal safety & was an encouraging inspiration to his men.
Previously at Gallabat on 5th Nov 1940 Major SHERWOOD led the successful dawn attack on Zariba hill. On 10th November, he took his company to ambush the enemy at Gallabat Fort. By his skillful handling of the situation, the ambush was successful & severe casualties inflicted on the 77th Colonial Bn. With small loss to himself.
He was also awarded a Bar to the D.S.O. for the following Action (WO373/10 fol.12):
On 29th Aug 1944, 3/10 Baluch Regiment the battalion which Lt. Colonel SHERWOOD was commanding, captured the high ground south of the Foglia River. It had been anticipated that this would form a secure base for reconnaissance of the river line and detailed planning for an attack on the M (onte?) CROCE – M CALVO sector of the GOTHIC line. As the advance had been rapid, the enemy was believed to have been surprised, so orders were received for an immediate attempt against the line by coup-de-main, and that afternoon Lt. Colonel SHERWOOD established two rifle companies in the valley and organized patrolling into enemy positions. As conditions appeared favourable, the battalion was ordered to capture the very strongly defended area on 30th Aug 1944.
During this operation, which proved to be one of 36 hours intense close quarter fighting, Lt. Colonel SHERWOOD commanded his battalion with the greatest forcefulness and courage. He fully recognized the hazardousness of the task he had been set…. Nevertheless he recognized at once that the operation was essential in the circumstances & that if successful it might prove decisive in securingthe left flank for the Corps. Advance.
After the intermediate feature, M CROCE, had been captured & consolidated by 3 coys, Lt. Colonel SHERWOOD went … (piece missing) More than once during the day the advance was held up, and only by Lt. Colonel SHERWOOD's action in getting forward under fire to restore momentum, was the postion finally overrun.
During the 2 days fighting, he remained calm yet forceful in all his actions; he kept Brigade HQ fully informed , making several suggestions for air & heavy artillery support… Lt. Colonel SHERWOOD's personal leadership and courage alone made vistory possible. The Bde. Command was with the battalion during the final mopping-up, and he spoke to many of the Indian officers & men.
Granted an Immediate Bar (signed) General H R Alexander, C-in-C.
London Gazette 16 April 1942:
Major Launcelot Vincent Stoneham Sherwood, 10th

Baluch Regiment, Indian Army awarded in recognition of gallant and distinguished services in the Middle East during the period July, 1941, to October,
1941:
The Distinguished Service Order.
.

Navy List of Napoleonic War 1793-1815
SHERWOOD, Lieutenant William
SHERWOOD, Lieutenant William Tuttle (nl 1807)

From History of the Dorsetshire Regt. 1914 to 1919 (publ Hy Ling 1932 p.60) List of honours & Rewards:

SHERWOOD, F. Pte. 9429 2nd Dorsets was awarded the D.C.M. (Distinguished Conduct Medal) on 3.6.1915 (London Gazette). He is not on the list of those who fell, so obviously survived the War.

135 Sherwoods are listed on the AUSTRALIAN WW2 NOMINAL ROLL www.2roll.gov.au
THE ROLL OF THE IMPERIAL YEOMANRY, SCOTTISH HORSE & LOVATS SCOUTS. 2ND BOER WAR 1899-1902
Sherwood, Charles 40079*, Trooper 1st Scottish Horse

Sherwood, Douglas 4395, Private 33rd Coy., 11th Bn. I.Y.
Sherwood, Fred Ernest 4495, Private 53rd Coy., 14th Bn. I.Y.
Sherwood, G. Orderly I.Y. Hospital, Pretoria

Sherwood, Henry Francis 26319, Private 58th Coy., 15th Bn. I.Y.
Sherwood, T. Sergeant Major I.Y. Field Hospital
ARMY DEATHS INDEX 1901-1905 EXCEPT Boer War:
Sherred, Dorothy Mary, age 0, Amritsar, 1904 p.147

Sherwood, Ernest, 21, Ambala, 1905, p.115
Cavalry Awarded Queens South Africa Medal 1899-1902
Sherwood H.A. 3rd Hussars

4635 Lance Corporal Sherwood J 18th Hussars

4629 Private Sherwood S 18th Hussars
Casualty List Crimean War 1854-1856:
Sherwood George Ordinary Seaman H.M.S. Wasp. Slight Wound Naval Brigade Ashore 11 April 1855

Sherwood William Private 3903 97th Foot (Earl of Ulster's) Killed in Action Final Attack on the Redan 08 September 1855.
Battle Casualties in Zulu War 1879:
1169 Pte Samuel SHERWOOD, 2nd Bn. 24th Foot (2nd Wawicks) KIA Isandhlwana 22 Jan 1879.
Sherwood Casualties from the Second Boer War
The First Anglo-Boer War (1880-1881) or 'Transvaal War', was a relatively brief conflict in which Boer (Dutch settlers) successfully rebelled against British rule in the Transvaal, and re-established their independence, lost in 1877, when they gave up their Boers independence to obtain British help against the Zulus.

The Second War (1899-1902), by contrast, was a lengthy war - involving large numbers of troops - which ended with the conversion of the Boer republics into British colonies. These colonies later formed part of the Union of South Africa. The British fought directly against the Transvaal and the Orange Free State. The bloodshed that was seen during the war was alarming. Many of the British soldiers were physically unprepared for the environment and poorly trained for the tactical conditions they faced, as a result, British losses were high as a result of both disease and combat. These extracts are from the new Ancestry database.

Name: L Sherwood Casualty Type: Died
Casualty Date: 20 Mar 1901
Casualty Place: Pretoria
Rank: Private
Force: South Africa Field Force
Regiment: East Kent Regiment
Battalion: 2nd Battalion
Number: 5934

Name: G Sherwood Casualty Type: Died
Casualty Date: 14 May 1901
Casualty Place: Rustenburg
Rank: Private
Force: South Africa Field Force
Regiment: Norfolk Regiment
Battalion: 2nd Battalion
Number: 2571

Name: N W Sherwood Casualty Type: Killed
Casualty Date: 22 Jan 1902
Casualty Place: Bethel
Rank: Private
Force: South Africa Field Force
Regiment: Northamptonshire Regiment
Battalion: 2nd Battalion
Number: 5491

Name: E S Sherwood Casualty Type: Wounded
Casualty Date: 27 Jan 1902
Casualty Place: Springbokdrai
Rank: Corporal
Force: South Africa Field Force
Regiment: South African Constabulary
Battalion: C Division
Number: 74

Name: R Sherwood Casualty Type: Died
Casualty Date: 19 Apr 1902
Casualty Place: Frankfort
Rank: Lance Corporal
Force: South Africa Field Force
Regiment: Essex Regiment
Battalion: 2nd Battalion
Number: 3384

Name: S Sherwood Casualty Type: Died
Casualty Date: 22 Jan 1879
Casualty Place: Isandhlwana
(This was prior to the start of the war)

Name: J Sherwood Casualty Type: Wounded
Casualty Date: 30 Oct 1899
Casualty Place: Farquars Farm
Rank: Bugler
Force: Natal Field Force
Regiment: Royal Rifle Corps
Battalion: 2nd
Number: 9453

Name: C Sherwood Casualty Type: Wounded
Casualty Date: 16 Feb 1900
Casualty Place: Klip Drift
Rank: Private
Force: South Africa Field Force
Regiment: East Kent Regiment
Battalion: 2nd Battalion
Number: 2462

Name: F Sherwood Casualty Type: Wounded
Casualty Date: 24 Feb 1900
Casualty Place: Ladysmith
Rank: Corporal
Force: Natal Field Force
Regiment: Rifle Brigade
Number: 1502

Name: A Sherwood Casualty Type: Prisoner
Casualty Date: 29 Dec 1900
Casualty Place: Helvetia
Rank: Private
Force: South Africa Field Force
Regiment: Liverpool Regiment
Battalion: 1st Battalion
Number: 1334
Remarks: Released

BRITISH ARMY WW1 SOLDIERS SERVICE RECORDS

Ancestry.co.uk have now indexed all the surviving records at Kew, and these are linked to images of the documents on their web site, you can view a list of all the Sherwoods & variants on this index by clicking here.

I have abstracted details of some of those Soldiers documents surviving from 1914-1921, held at TNA Kew in Class WO363. This is the so-called Burnt Series, about 60% of which were destroyed by bombing in 1940. Microfilms of these documents can be borrowed through the LDS Church and are listed on the FHLC. The documents can be extremely useful, giving details of birthplace, addresses, next of kin, and a physical description of the soldier. Here are details from LDS film # 2198843 Roll 337 SHERWOOD, Ambrose to Frederick:


Abbreviations used: ?= writing faint or illegible. Addr = Address, att = attested, bn= born, Bn. = Battalion, Bty = Battery, CoE = Church of England religion, demob = demobilized, emb = embodied (enlisted), enl.= enlisted, m. or marr = married, NOK = Next of Kin, Pte = Private, unm = unmarried. L.I. = Light Infantry, BEF = British Expeditionary Force. (Phil Sherwood)

1. Pte. Ambrose SHERWOOD, 1085 Kings Royal Rifles
Enlisted Winchester 8th June 1883 aged 23, Labourer bn Kingston, Dorset. NOK: Robert & Maria (parents) of Newtown, Kinson. Status: Single. Prev served in 3rd Bn. Hampshire Regt. Made his Mark. Ht 5'4.25" Sallow Complexion, Hazel Eyes, Dk Brown Hair. Religion CofE. Military History:
Dates From/To Country Length of Service


8/6/83- 3/2/86 ? 2y 241d


3/86- 30/10/90 India? 4y 269d
31/10/90- 24/9/92 Burma? 1y 320d
Pension Record: 8/6/83 attested as Private; 31/10/90 transferred to 4th Bn KRRC as Private?. Permitted to extend service to complete 12 years with Colours. Died 24th September 1892 at the Station Hospital in Inyinggar?? (hard to read) poss in Burma. (The Third Burma War).

2. Pte. Anthony William SHERWOOD, 26158 D.C.L.I. Royal Fusiliers
Enl as Private in Duke of Cornwalls Light Infantry on 24.11.1915 at Hounslow when his address was New Cottages, Hamm Moor, Weybridge, Surrey, aged 35y 8m. (bn ~1880) Gardener. Unm, no prev service. Ht 5'6.5" Fresh comp., Blue eyes, brown hair, wart on lwr rt side of neck. NOK: father, Anthony SHERWOOD of "Sunnyside", Woodcote, Oxon nr. Reading.Military History: 24/11/15 – 6/5/16 at Home, 7/5/16 …. E.F. in France. Pension Records: 21/4/1920 First Award. Regt 157 Cy Labour Corp (late DCLI) Demob 27.2.19 Regtl. No. 94014.
Address: 15 Albert Rd, Addlestone, Surrey. Born 1880 no children or wife. 'Disability from which many suffered' (Copy of Army Form Z.11 dated 30.1.19 Crystal Palace: Protection Cert & Cert of Identity)

3. Arthur Nathaniel SHERWOOD No.1422 2/5th R.W. Kent Regt.
Attested as Pte. 16.11.14 at Folkestone for one year's service in Territ. Force. Address 78 Linden Crescent, Folkestone. Aged 44y 9m (born ca1870). Medical Examination 20 Nov 1914 at Tonbridge. Statement of Service: At Home 10/12/15 posted to 71st Pool Bn; 10/18 posted 61st Pool Bn; Disembodied 31/3/19??. NOK Sarah SHERWOOD of same address. First award of Pension to SHERWOOD Arthur Nathaniel Royal Defence Corp (late R W Kent). Disability: Bomb bleeding….? No children. Sep 1922 Request for Discharge Docs.

4. Arthur SHERWOOD 5/440222 Army Service Corp.
Attested as Private 11.12.1915 at Worcester, address 8 Westbury St, Worcester, aged 39y 3m (born 1875), Butcher, no prev service. Ht 5'6". NOK: Louisa SHERWOOD of same address. Married Louisa HALL 6 Aug 1906 at Wootton, Oxford. Children: Frederick Arthur bn 17.5.1905 at Bampton, Oxon, and Myrtle Louisa bn 10.5.1912 at ….? N.Hants. Military Service: Home until …1916, 1 3/17 Ex.F.F. to 12 6/17, Home. Medals: British war Medal & Victory Medal. Mobilized 22.11.16, to France 2.3.17. trans to Class z on demob, discharged at Chiseldon. Letter dated 17.2.1919 from Woolwich RO to Mr Arthur Sherwood , 46 Shambles, Worcester. Statement as to disability (Form Z) : Unit 193 HJ Coy R.A.S.C. AGED 43, SERVED IN France from Feb to June 1917 & from Sept to Nov 1917. Ireland from Sept to Oct 1918. suffered from Lung trouble, adm to St.Pauls Hosp,Arras, 34 General Camiers & Wimereux with Pneumonia. In 1919 his last employer was Mr Austin Sergent of 46 Shambles (Butcher). Posted 30.9.18 from BEF to No.2 Inf Comm. Depot at Ripon. Posted 13/9/18 to Lincs Regt at Cork. 22.11.16 Medical history: Birthplace at Eynsham, Oxon age 40y 2 m.

5. Pte. Arthur SHERWOOD No.584 S.Staffs Regt.
Attested 8 Sept 1917 at West Bromwich aged 17y 8m, Labourer of 78 Dudley Road, West Brom. NOK: Father, Joseph Sherwood. Protection Cert. Issued 14.2.1919 at Litchfield born 1899. Discharged from Hospital 12.8.18 VAD Hosp, Oxford.

6. Pte. Arthur SHERWOOD No. 240327 5th Bn Yorks & Lancaster Regt.
Attested in T.A. for 4 years on 5.8.1914 aged 18y 4m. (born ca1896 nr. Barnsley? W.Yorks.) Occ: …keeper at ……. Colliery. Address: 4 Thorntree Lane, Old Town, Barnsley. Ht 5'2.5". p.101) Letter dated Oct 1930 from Records to A.Sherwood. served in BEF in France until 21.1.1919 as a Signaller.

Conduct sheet: 26.12.14 Sheffield- absent at Roll Call, apprehended 27.12. p.111 letter to Mr A Sherwood, 4 Thorntree Lane, Old Town, Barnsley dated July 1919 re Pension & Bounty eligibility.

7. Pte Arthur Alfred SHERWOOD 10061 R.A.S.C.
Attested 3.5.1915 in London aged 36y 3m. of 22 Victoria St., Great Yarmouth, Labourer 5'5" CofE. NOK: wife Agnes Phyllys Green SHERWOOD of same address. Married Agnes Phyliss Green POPLEY?, spinster on 24 Dec 1899 at Gt. Yarmouth. 5 Children: Arthur William Benjamin bn 1.2.1901, George Alfred 18.2.1903, Alfred William 28.9.1909 & Ivy Gladys & Doris Agnes 1.1.1913 all at Great Yarmouth. Statement of living relatives of Deceased Soldier: Widow: Agnes P Sherwood of 9 Maud Terrace, Great Yarmouth; Father :Benjamin J Sherwood Mother: Charlotte A both of 12 Stanley rd, Great Yarmouth. Brothers: Benjamin 42 & Horace T aged 20. Service Record: Home 3.5.15 to 10.5.15; France 11.515 to 12.2.19 Born Lowestoft. Died from broncho-pneumonia on 12 Feb 1919 in France. No.298352 Labour Corp. Listed on CWGC website. Memorial at St.Severs Cem Extn, Rouen.

8. Rifleman Arthur Francis SHERWOOD No 23357 Rifle Brigade.
Attested at Woolwich on 9.12.1915 in Rifle Bde. age 18 , Cable Hand of 21 Tormount Rd, Plumstead, S.E.15 Kent. Ht 5'5". NOK: Abner Clark SHERWOOD, Father of same address. Died of Wounds 23 Mar 1918. CWGC website: SHERWOOD, ARTHUR FRANCIS Rifleman S/23357 25/03/1918 20 Rifle Brigade United Kingdom IV. A. 14. ROYE NEW BRITISH CEMETERY.

9. Pte. Arthur George SHERWOOD 13215 Bedfords. Regt.
Attested at Bedford 31.8.1914 age 24y 3m. (Born 1890 at Windsor, Berks) Porter Ht 5'7.75" 130lb. Fresh, grey eyes, brown hair C of E. Furlough Form in 1917 to 9 Bryn Terrace, Clewer Green nr Windsor. Adm to Hosp 7.10.1917, discharged 28.101918.

10. L/Cpl. Arthur Henry SHERWOOD 2087
Enlisted 22.9.1914 at Melton Mowbray 111 Remount Depot R.A.S.C. aged 36y 311d born 1878 Sculton, nr Richmond, York. Groom of 37 Lower Brook St, Melton Mowbray. Desc: Fresh, grey eyes, brown hair 5'4" 140lb. Joined 23.9 at Wollwich, 22.3.15 acting L/Cpl reverted 3.5.16, 19.1.18 promoted Cpl.. 28.9.14 emb S S Antonia at Sotn for Le Havre the No.2 Base Remount Depot. 18.3.1916 trans to England- Sustained serious thigh injury, in hosp at Welsh Metropn War Hosp, Cardiff from 18.3.16 to 6.4.16. 31.5.16 S S Karnak Sotn to Rouen. Posted to 2 B R Depot. Class Z 26.3.1919 Medals : 1914 Star, BEF France.

11. Gunner Arthur Henry SHERWOOD 126 West Riding R.G.A.
Enlisted 9.4.1908 at York aged 18y 11m 5' 6" Born Norton, Malton, Yorks ca 1888. Labourer of 12 Oldfield Rd, Layerthorp/Lagerthorp? Employed by Henry Leetham & Sons Mills, 12 Hadfield Rd, Layerthorp? Prev Service in 1st V.B. P W O West Yorks Regt (resigned).
Name: SHERWOOD, ARTHUR HENRY Rank: Serjeant .Regiment: West Yorkshire Regt. (Prince of Wales's Own) Unit Text: 9th Bn. Date of Death: 09/08/1915 Gallipoli. Service No: 11799 Casualty Type: Commonwealth War Dead. Grave/Memorial Reference: Panel 47 to 51 Cemetery: HELLES MEMORIAL.

12. Pte. Arthur James SHERWOOD 21460 4th Royal Fusiliers (1605830)
Enlisted 27.11.1915 at Hounlow aged 30y 4m (bn 1885) Address: 170 Willenhall Rd, Willenhall, staffs? Unm, Occ unreadable. Ht 5' 10" NOK: Wife , Father : Joseph. Married Elsie Ann SMITH 1.12.1915 at St.Giles, Willenhall. Service: to 3.16 at Home, France 10.4.16 – 22.8.16, Home 23.8.16 – 15.12.17 Labour Corp. 15.12.17 he was discharged as medically unfit to 113 Lwr Litchfield St, Willenhall (wound lower lumbar region) L/Cpl late 401082 17th Bn. Essex Regt.

13. Pte. Arthur William SHERWOOD 14380 Norfolk Regt.
He enlisted twice, firstly on 9.9.1914 at Norwich into the Norfolk Regt. His attestation form says that he was born 23 Dec 1884 at Ringland, near Norwich. Parents not listed. For some reason he was discharged as unfit for service, and re-enlisted on 1.12.1914 at Great Yarmouth into the Norfolk Regt. or Northumberland Fusiliers. When he gave his address as Haddiscoe Hill, Norfolk, age 30y 11m, Fisherman, married , no previous service. Fresh complexion, grey eyes, brown hair. Height 5' 3" Mole on rt. Arm. C of E. NOK: Wife Alice SHERWOOD, Haddiscoe Hall nr Loddon, Norfolk. Details as to marriage: Marr Alice OLLINGTON, spinster on 19.6.1904 at Thorpe next Haddiscoe.
Children: (all born Haddiscoe) Kenneth William 19.8.1905, Hubert Frank 27.1.1907, George Edward 16.6.1910, Arthur 10.8.1911, Gladys 24.7.1915. Service record: remained in England (Norfolks) until 24.2.1916, then transferred 25.2.1916 to Garrison B, Essex Regt in India. On 30.10.1917 [p.308] he was transferred to Inland Water Transport, Royal Engineers (Service No. WR553587) based in Basra, Mesopotamia. Medals: British War & Victory. Form Z: 24.7.1919 No WR553587 Sapper Arthur Wm Sherwood. Royal engineers Form. OR2 26.7.1918 259152 Sapper A W Sherwood completed test for skilled rate of pay on 7.5.1918 Trade: Seaman. On p.302 there is a Death Cert of his daughter, Alice Gladys Sherwood on 20.8.1916 at Hill Cottage, Haddiscoe aged 13months, dau of Arthur Wm, Private, Essex Regt. Died of broncho-pneumonia. Informant Alice Sherwood, Mother.

14. Pte. Benjamin SHERWOOD32179 R.A.M.C.
Enlisted 2.6.1915 at Birmingham into 3rd East Lancs. Aged 39y 95d., Engine Driver of 27 Arden Grove, Langley, Worcs.. Ht 5'3.5" Born 1876 at Featherstone, Yorks. (GRO & 1881 refs). NOK: Wife, Rebecca of same address. Marriage: Rebecca JONES 8.5.1987 at Register Office, Dudley Worcs. When she resided at same address. Children (all born Oldbury, West Brom): ? Nov1899, Nelly Dec 1901, Richard Benjamin Jul 1904, Wilfred 31.7.1909, Violet May 31.3.1912. Copy Death Cert for his dau Violet May at Oldbury in 1917. Served in Army School of Cookery on Malta from 9.11.15 to 10.9.17. On 10.6.1918 disemb Basra, 17.8.1918 joined for duty- Field. 12.9.1917 transf to 3rd Labour Corp. & then to Classs Z.

15. G911 Pte. Benjamin Arthur SHERWOOD
Enlisted 23.9.1916 at Norwich to Labour Corp. (Norfolk Regt crossed out). Aged 38 Bn 1878, Labr Unmarr of 12 Stanley Rd, Caister Rd, Great Yarmouth. Ht 5' 4.25". NOK: Mother Mrs Charlotte SHERWOOD of same address. 23.3.16 transfer to Middlesex Regt, 2nd Reserve 'The Queens'. 19.7.18 Medical discharge 241405 Pte in Labour Corp (Agric Coy).

16. 162938 Gunner Bertram George SHERWOOD R.G.A.
Enlisted 10.12.1915 at Newbury, Berks then to Plymouth. Aged 22y 6m born Streatley, Police Constable of 5 Cromwell Place, Northbrook St, Newbury. Married , one child Ht 5'10". NOK: Wife Lilian Florence of same address. Lilian Florence VAUGHAN marr 27.1.1915 at St. Lawrence Church, Reading. Son: Kenneth George 12.4.15 at Newbury. 23.11.17 Signaller 1st Class. Will dated 1.3.18. Not on CWG site, so presumed survived.

17. 59466 Pte. Barnaby Thomas SHERWOOD 3rd Worc Regt


Enl. 25.11.1915 at Stratford on Avon aged 27y 305d, born 1888, Market Gardener of Iron Cross, Salford Priors, Evesham. Married, Ht 5'6.5" Sallow complexn, blue eyes, brown hair. Marriage details: 9.1.1913 at St. Georges Redditch, Worcs, Evelyn THREADGOLD spins. Children: Mary? Margaret 10.1.14, Evelyn Catherine 5.10.16 both bn Salford Priors, Barnaby Thomas 3.9.18 at Alcester. Service: Home 25.11.15- 19.10.18, BEF France 22.10.18- 4.2.19 then Home until demob on 31.3.1920.

18. M/225119 Pte. Caleb John SHERWOOD A.S.C.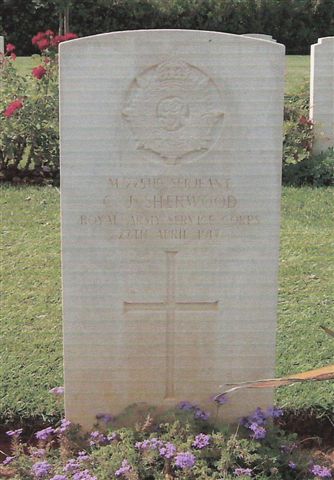 Enl. 5.6.1916 at Windsor of 35 William St, Windsor, Berks aged 36y 10m, Blacksmith/Coach smith, married, bn Eynesham 5'5". Married 9.8.1902 to Louisa BOURTON spins at Indep. Chapel, Bicester. Children: Doris Louisa 12.7.05 Bicester. Service: Home until 23.3.17, sent to Egypt 24.3.17. Saved from H.T. Arcadian when torpedoed at Suda Bay, Crete where he is buried in the Brit. Cem. Died 27.4.1917 from Pneumonia ex Transport "Arcadian" (Admiralty telegram) Egypt 904th Coy MT. 12.1.18 his Effects ent to his widow, Louisa at 72 High St, Witney Oxon. Listed on CWGC as Sergeant, killed at Sea, bn Eynesham Oxon. CWGC: SHERWOOD, C J Serjeant M/225119 27/04/1917 Unknown Army Service Corps United Kingdom XI. C. 13 SUDA BAY WAR CEMETERY.

19. 12/1867 Pte. Cecil Stanley SHERWOOD 15 Bn Yorks & Lancs Regt
Enl. 9.11.15 aged 22y 9m, Clerk, Unm of 57 Woodstock Rd, Sheffield. Ht 5'6" NOK: Father Edwin James S. of same address. Service: BEF France, Etaples from 21.5.16, injured 26.7.17 & trans to England. Discharged 19.5.18. PC dated 6/1918 from E J Sherwood of 57 Woodstock Rd Telegrams: "SHERWOOD C/O Mikado Sheffield"

20. 43430 Pte. Charles SHERWOOD Manchester Regt formerly 4853 Middx Regt.
Enl. 12.12.15 at Tooting into 25th Middx Regt of 29 Garton St, Wandsworth SW aged 30y 11m. born Chelsea. Carman, unm. 5'9.5". NOK: Father Thomas S. of same addr.. Eldest bro : W Sherwood of 57 Northway, Stonebridge Park. Service: Home until 29.6.16 when Sent to BEF France 1.7.16 9th Bn Middx, wounded in action 1917, on 2.10.17 joined 3rd Manchesters. Missing from 31.3.18 death assumed on or after. Listed on CWGC

4.11.19 effects of late soldier sent to Mr Thomas J Sherwood 128 Cremworth? Rd, Wandsworth. Police report 15.3.1921 "Mrs Sherwood, mother of late soldier is an Inmate of St.James Infirmary, Ousley Rd Wandsworth Common & her condition is somewhat critical. Her husband is dead & she asks that her son Wm S. of 94 Merton Ave, Stonebridge Park be contacted".

21. 101 Pte. Charles SHERWOOD (392087 21st Field Ambulance)
Enlisted 29.3.15 at Newcastle-T in R.A.M.C. Territorial Force. Addr North Terr, Cornsay Colliery, Durham. Born 1889, age 26. Served 1915 to 8.1.17 at Home, 9.1.17 to 19.11.17 in BEF, 20.1117 to 8.8.18 Italy. Discharged 31.3.1920 to c/o Mrs Gargett, Thinford St, Terry Hill, Durham. 5'9".

22. 695 Gnr. Charles SHERWOOD London Brigade R.H.A.
Enlisted 3.5.1912 aged 17y 11m brn St.Lukes, Finsbury 1893. Printer app to Baddley Bros. Moor Lane. His address: 6 Bath Blds, Baldwin St, st.Lukes. Unm, 5'5". Served with BEF France from 15.3.15. see 1901 census entry.

23. 4381968 Pte. Charles David SHERWOOD 5th Green Howards
Enlisted for 7 years at York in 5th Yorks Regt (3403) Served in France, Rouen, Trouville- demob 28.5.19 as L/Cpl. Re-enlisted 14.2.1921 as Private 5'6" 130lb. Farmer of Pottergate, Helmsley, Yorks born 28 Feb 1897. Unm. NOK: Father, William SHERWOOD.

24. 526222 Sapper Charles Edward SHERWOOD R.E.
Enlisted 6.9.15 at Northampton in Royal Engineers, aged 37y 11m, Occ: Carpenter. Born 16.10.1873 at Marston Mortaine, Beds. Wife: Ellen Dainty HAMPTON marr 3.3.1898 at Kettering. Children: Edward Charles, Edith Louisa, Robert & Frederick. Invalided out 30.8.17, discharged 1.3.18 from Fort Victoria, Yarmouth IoW when his intended address was 97 Clare st, Northampton. Blue eyes, brown hair. Aged 44. Served at Home 6.9.15 to 1.3.18. Prev worked at Wool Camp, Dorset. Intends to work as Carpenter at Bognor. 1916: Insubrd & obscene language to an NCO.

25. 171906 Gnr Charles Henry SHERWOOD R.R.A.
Enlisted 1.8.1914 at Manchester aged 40 y 8m, Manager, of 18 Tintern ave, West Didsbury, Manchester. Unm, 5'4" sallow, blue eyes, brown hair, scar on nose. NOK: his sister, Mary S MACKAY of same adrr. Served at Home- Sheerness. 3.7.18 Qualified in gun-laying. Born 1897 at Neston, Cheshire.

26. 238198 Dvr. Charles John SHERWOOD 1st L.D.T, R.A.S.C.
Enlisted Oct 1914 aged 18y 5m, born 1896 at New Cross, London. Addr 36 Dutton St, Blackheath, Greenwich. 5'8" Served in France 23.1.17 embarked SS Huntscroft for Le Havre. Demobbed 19.3.19 at Woolwich aged 22.

27. 11450 Pte. Charles Owen SHERWOOD 21st OCB, 1st H.A.C.
Enlisted 15.0.1917 at City Rd, London. On 13.1.19 he was aged 19 (born 1899) address Hoo, Wickham Market, Suffolk. NOK: Father, Charles J SHERWOOD, The Hall, Hoo, Wickham Market. 6.4.18 sent to France; 13.1.19 at HQ Aldershot. Not on CWGC site so presumably survived.

28. 5193 Pte. Charles Robert SHERWOOD 8th London Regt.
Enl. 1.2.1916 as Private, of 83 Nithsdale Rd, Plumstead S.E. aged 22y 7m (born 1893 Plumstead). Post Office Sorter, unm. NOK: Father, Charles John SHERWOOD of same addr. Served in France from 2.17 to 8.18. Class Z from 1919 aged 22 y 210d on 1.2.1916 5'2".

29. 146085 Gnr. Charles William SHERWOOD R.F.A.
Enl. 14.12.16 at Woolwich aged 21y 3 m born 1894, Cook of 22 Station Rd, Redhill, Surrey. Ht 5'7" Pale/Hazel?dark NOK: Father, Charles SHERWOOD of Burtons Rd, Hampton Hill, Middx, Unm CoE. Served BEF France from 1917 in 56th Reserve Bty RFA. On 6.8.18 posted 5th Army T.M. School from which he was demobed on 9.2.19.

30. 32677 Pte. Douglas Eugene SHERWOOD A.S.C.
First enl. 29.12.1887 as Pte. 30803 in 11th Royal Innis. Fusiliers, detained for outbreak of Boer War. Enl. 16.11.1914 at London. Aged 37 bn 1870 Faversham, Horsekeeper of 2 Jubilee Bldgs Wapping. 5'6" NOK: wife, Kate SHERWOOD of same addr. Marriage: Lizzie Kate Davies, sp. 12.4.1909 at Holy Trinity, Haverstock Hill. Ch: Vera Dewinton? 23.3.1912, Douglas Howard 28.11.1913 both bn St Marylebone. Service: 19.6.15 to BEF France; 20.8.16 transf to Dublin Inniskilling Fuslrs; 1.12.16-22.11.18 France; 23.3.19 demob. On 2.4.17 at Cinder City, Havre he requested transf to Remount Depot, Le Havre aged 46.

31. 237770 Pte. Edward SHERWOOD Labour Corp.
Enl. 30.6.17 at Kingston aged 29y 6m, Brewers Drayman of 59 Johnson Rd, Croydon. 5'7". NOK: wife Emma SHERWOOD. Marriage: Emma GUBBINS, sp. 5.2.1910 Registry Office, Croydon. Ch: Winnie? 1911 & Edward ? both bn Croydon. Service: 13.11.17 to EC Labour Centre, Shoeburyness. 12.1.20 trans Class Z addr. 46 Cromwell Rd, W Croydon. In 1921 he was sent the Victory Medal.

32. 121041 Pte Edward SHERWOOD A.S.C. (M.T.)
Enl. 9.9.15 at Wolverhampton aged 22y 4 d born 1893 at Gornal? Staffs. Petrol Motor Driver 5'6" of Aldersley Rd, Tettenhall. NOK: Father, William Francis SHERWOOD of same. 18.10.15 – 10.7.19 BEF France attached to 565 Coy, 46th Siege Bty, 31 Bgde RGA. Class Z 9.8.19 Lorry Driver.

33. 20378 Sapper Edward Joseph SHERWOOD R.E. Road Constr. Coy.
Enl. 30.9.16 of Cremorne Rd, Chelsea aged 29y 9m., Stage Carpenter bn 1887. NOK: wife, Annie SHERWOOD. Marriage: Annie SHERWELL sp, 13.4.12 at Lancaster Register Office. Children: Elizabeth Annie & William Charles both bn 28.1.13 at Fife, Scotland. Served in France from 15.1.17. Demob 25.9.19 at Crystal Palace.

34. 526057 Sapper Edwin SHERWOOD E.A.R.E.
Enl. 9.8.15 at Northampton aged 35y 3m. 5'4"; of 87 Turner St, Northampton, Plumber. Born 1880. Served in France; 1917 transf to Durham L.I.; 16.16.6.19 demob. Class Z. Married Kate…? 29.8.17.

35. 239655 Dvr. Ernest SHERWOOD A.S.C. 516COY.
Enl. 13.10.14 at Nottingham aged 24 bn 1890 of 4 Belvoir Hill, Sneinton, Notts 5'8". Served as a Driver in France from 26.2.17; wounded 6.12.17 Demob 25.2.19 at Woolwich when of 4 Coleridge St, Radford Notts. NOK: Father, Alfred SHERWOOD of 4 Belvoir Hill (crossed out & replaced by Wife, Ellen Beatrice SHERWOOD of 8 Garfield Rd, Radford).

36. 735 Pte Ernest Harry SHERWOOD 2nd Southern Coy, Non-Combatant Corp.
Enl. 27.4.16 at Worcester aged 28 bn 1888, Bricklayer of High Green, Severn Stoke, worcs. 5'4" NOK: Father, John SHERWOOD of same. From 29.4.16 served in France; disch 11.11.19. Registered as Conscientious Objector.

37. 78595 Francis William SHERWOOD Northern Cyclist Bn.
Enl. 15.3.15 at Newcastle aged 21y 8m. of Three Tuns Hotel, Stokesley, NRY. 5'7" born 1893. 12.12.16 Transf to Machine Gun Corp. 21.8.17 L/Cpl in Tanks posted to France 14.2.18 Promoted to Sgt. Home 28.918. 11.2.19 demob to Golden Lion Hotel, Stokesley.

38. 3198 Pte Frank SHERWOOD Royal 1st Devon Yeomanry. (see 31 for bro Edward)
Enl. 15.6.15 aged , 5'6", of 27 Johnson rd, W Croydon; bn 1892, Footman, unm. Served at Home until 24.4.18 then to BEF France until 3.4.19. Knee wound 31.5.18 Demob 1.5.19. On 19.4.18 his NOK was his Mother, M A SHERWOOD of same.. Last employer: Lady Robson, 26 Eaton sq, London.

39. 20726 Pte Fred SHERWOOD, Duke of Cornwall L.I.
Enl. 14.2.16 at High Wycombe 26y 6m. 5'5" of 29 Jubilee Rd, High Wycombe; Wood Machinist. NOK: Father George SHERWOOD, Moor Common, Lane End, High wycombe. Served Home until 6.5.16 then BEF France. Tranf to Labour Corp. No.93431; demob 10.11.19. to Skirmett, Henley on Thames. Born 1881 Nuffield Parish, Oxon.

40. 1185 Gnr. Fred SHERWOOD 1st N. Midlands Bde. RFA
Enl. 7.8.14 aged 20, Railway Carpenter bn Boston, Lincs. Addr: 12 Sydney st, Boston 5'9". Service: 12.6.15 acting Bdr. Casualty form says "13.10.15 KIA buried near Vermelles." Letter dated 13.4.19 from his father, Frank Michael SHERWOOD of 12 Sydney St.

41. Frederick SHERWOOD A.S.C.
Enl. 18.1.1896 at Dover aged 18y 9m, Carman, bn Godmersham, Kent. Service: Home 18.1. – 20.10.9996; South Africa 21.10.99-13.11.03; Home 11.03-17.1.08. Discharged as Sadlr/Cpl. NOK: John Thomas SHERWOOD, Pested lane & Brother George SHERWOOD of 29 Peckham Rye, London. Decorations: Queen's Medal (2 clasps) & Kings Medal. Qualified as a Collarmaker 30.9.1899. 1.9.01 prom Cpl C.Maker, 1.10.03 Sadr.Cpl. Ht 5'4" Wt 122lb. Fresh/Brown eyes & hair. Religion: Wesleyan.

42. T/392935 Pte. Frederick Arthur SHERWOOD A.S.C.
Enl. 8.12.15 aged 32y 1m. Grocers Asst of 1 May Ave, Buckland, Lymington, Hants 5'7.5" Born 14.11.1883 at Reading. NOK: Wife, Alice. Marriage: 10 Aug 1909 at Epsom, Surrey to Alice Beatrice HOAD? Spins. Of same addr. Children: Alice Elizabeth 17.1.1910 Reading, Frederick Jesse 18.6.1913 Lymington, Wm Richard 21.4.1915 Lymington. Served in BEF France from 7.10.16-11.8.17, then at Home until demob on 3.8.19 to 1 May Ave, Lymington. On 4.8.17 he was wounded in Action (GSW to right leg) then transf to Winchester. On 12.8.17 he was transf to 15th Hants Regt. No. 25359. 15.3.17 Change of address for disabled person from Abinger Hammer, Dorking to 1 May Ave Lymington.

43. T2/SR02782 Frederick SHERWOOD R.A.S.C. (same person as No.41 above)


Re-enlisted 5.2.1915 at Ashford, Kent aged 39y 278 d. Occ: Saddler born Godmersham, Kent. Addr. Pested Lane, Challock. Unm. Distinguishing mark: Female head tattooed rt. Forearm. Ht. 5'4" 120lb. On 17.5.19 he was issued with Protection Cert by 312 Coy RASC, Theatre: Western Address for pay: Red Lion Inn, Badlesmere, Faversham. NOK: Mother, Frances S. of Pested Lane. Marriage particulars: 6.11.1915 at Badlesmere Ch. Daisy BULMER spins. Of New Cottage, Welgate Green, Throwley, Kent. Service: 12.2.15 joined at Aldershot; 5.2.15 Driver in 242 Coy.; 12.2.15 promoted to Saddler/Cpl.; 17.6.15 apptd acting Sadlr/Sgt.; 2.918 posted to No.2 Reserve ASC Blackheath; 30.1.19 posted to Oswestry 312 Coy.

SHERWOOD ARMY ENLISTMENTS 1908-1933
IN SURREY RECRUITMENT CENTRES
The following have been extracted from the Surrey History Trust's CD published in 2005 of entries from Surrey Recruitment Registers:-
FIRST NAMES/ APPROXIMATE ATTESTATION
INITIALS AGE YEAR BIRTHPLACE
A 18 1917 Not given
A. J. 28 1917 Not given
Andrew Sterndale 18 1921 Thornton Heath
C 30 1915 Chelsea
Charles 41 1919 Surbiton
Clarence 20 1914 Purford
Courtney Arthur 18 1925? Hersham
D. G. 18 1917 Not given
E 29 1917 Not given
E 40 1917 Not given
Ernest Henry 18 1923 Byfleet
F 26 1915 Tolworth
G 30 1916 Birmingham
G 24 1917 Not given
H 18 1918 Not given
H. W. 22 1916 St Pancras
Henry 23 1914 Raynes Park
Henry John 19 1922 Battersea
J 35 1918 Not given
John Thomas ? 1918 Not given
L. C. 24 1915 Molesey
L. E. 18 1916 Clapham
Percy Fred 22 1914 Putney
R. H. 30 1915 Battersea
Reginald 18 1914 Surbiton
S 35 1914 Dorset
S. G. 28 1915 Shardlow
Samuel 18 1931 Wallsend, N'land
Victor 18 1910 Surbiton
William 20 1925 Surbiton
William 18 ? Lambeth
William John 18 1923 Surbiton
And as SHERRARD
Full details of each entry in the Recruitment Register can be found on the CD, which can be purchased at a cost of £15 from the Surrey History Centre at 130, Goldsworth Road, Woking, Surrey GU21 1ND – or phone "Karen" on 01483-518750.
(Most entries give a Regiment allocated at time of enlistment, a physical description a civil occupation, and in some cases a home address.)