Emigration from Britain.
This page gives details of some Sherwood families that emigrated from England, Wales, Scotland & Ireland. If your Sherwood ancestors emigrated, Phil would welcome details to add to this page, particularly if they came from Ireland.

Sherwoods in America
The three 17C Thomas Sherwoods of Connecticut
Early Sherwoods in America
SHERWOODS IN AMERICA: The Search For Our English Roots.
by Geoffrey Sherwood (Copyright 1998)
On April 10, 1634, in Ipswich, England, Thomas Sherwood (ca. 1585 -1655), with his first wife, Alice, and their four youngest children, boarded the ship "Francis" for the two-month journey to Plymouth, Massachusetts. By 1646, Francis Sherwood (unrelated to Thomas?) settled on the Eastern Shore of Maryland. These two pioneers were the progenitors of the largest Sherwood branches in America today. We American Sherwood genealogists know the salient names, dates and events of their lives as though they are our own. But ask us about their English forebears and we throw up our arms in exasperation.
The English origins of Thomas and Francis are unsolved puzzles. Theories, speculations, and mirage-like leads abound. But the origins of these men are hidden in history, or, we hope, on dusty shelves somewhere in the motherland. Perhaps this abbreviated list of facts, leads and quandaries, culled from over one hundred years of genealogical persistence, will prompt someone to provide a novel analysis of the evidence, or to uncover the heretofore unknown.
FRANCIS SHERWOOD:
1. Possible sons: Hugh, Edward, Francis, James, Philip; Hugh, born in 1632 (Annapolis, MD, Chancery Court Records, Vol. P.C., p. 572), once signed himself "a true Englishman, a good subject of the Crown of England - our native land."
2. The names "Francis" and "Hugh" may have been familiar among Sherwoods of Wicklow County, Ireland, and in parts of England.
3. Francis took the "Oath of Fidelity" to the government of the Province of Maryland on 2 Jan. 1646, together with Mr. Lewger, Mr. Gerrard, Mr. Green, John Jasbo, William Eltonhead, William Hungerford, etc. They appear to have been prominent Catholics. (Annapolis, MD, Land Office, Vol. 1, p. 205).
4. Francis may be the son of Robert Sherwood (blacksmith, b. ca. 1585). Possibly baptized 24 DEC 1609, St. Botolph's, Boston, England.
5. In Virginia before Maryland?
THOMAS SHERWOOD:
1. Born 1585, England.

2. Master carpenter, miller; Fairfield's Deputy to the Colonial Court in Hartford, CT. Any Sherwood millers in England in 1500's - 1600's?

3. The "Francis" ship's register lists his wife, Alice, age 47; children - Anna, 14; Rose, 11; Thomas, 10; Rebecca, 9.

4. Did any Ipswich congregations move en masse to America?

5. Did Thomas' eldest children - Jane, Thomasine ("Tamsen"), Margaret and Sarah - come to America with Robert Seabrook around 1638? Or did they remain in England? Any English records of their marriages?

6. Seabrooks are said to have been numerous in Chesham, Buckinghamshire. Were there Sherwoods there? Some say that Thomas married Alice Seabrook. His son, Thomas, apparently m. Sarah Seabrook, dau. of Robert Seabrook.

7. St. Michael's Parish, London: "Thomas Sherwood, son of Thomas and Alice SHERWOOD, baptized January 23, 1630." Thomas Sherwood, of this parish, m. Alice Welles, dau. of Leonard Welles of Southampton, 22 APR 1629/30.

8. A possible line: John and Anne Sherwood of Syleham, Suffolk (John's will proved 1504),

whose son William m. Margaret Spalding, and settled in the Parish of St. Nicholas, Ipswich, England. William's son John had sons baptized as follows:

Thomas, on 1 JAN 1540; Esdras, on 8 JUN 1542, in the Parish of St.Nicholas, Ipswich. Esdras and wife Dorcas appear to have lived in the Parish of St. Nicholas, Ipswich, from 1580 to 1606, and Thomas supposedly born there in 1585. Christopher, bap. 20 MAR 1586, and Dorcas, bap. 7 JUL 1588, may have been Thomas' siblings.

9. A Thomas Sherwood was mayor of Southampton, 1603-4.

10. A number of villages in Suffolk are associated with the name Thomas Sherwood.

(Note: since Geoff wrote this article it has been discovered that Thomas Sherwood and his first wife, Alice, lived for a time in or near Kettlebaston, a small village near Ipswich, and that several of his children were baptised there (ref: The American Genealogist (October 2005 Vol. 80 No. 4)

Note from Phil Sherwood 2012: In 1546 Thomas SHEREWOOD married Alice TROTT at St Mary Le Tower Church in Ipswich. Could they be the grandparents of Thomas the Immigrant 1585?

| | |
| --- | --- |
| | This map, kindly supplied by Gene Chamberlain, shows the English counties from which the 2,885 emigrants to New England came between 1620 and 1650. It can be seen that the counties with the greatest numbers were Suffolk (298) and Essex (266) followed by London, Kent and Norfolk. Other families which came on The Francis & The Elizabeth from Ipswich & also settled in Wethersfield were Coe, Rose, Smith and Raynor. They may all have lived in the Ipswich area and travelled together. |
MARY (ONGE ?) SHERWOOD
by Gene Chamberlain
This is a lengthy follow up to previous communication regarding Mary Sherwood, the second wife of Thomas Sherwood. As you will see from the information below, we may never prove beyond a doubt what Mary's true identity was. But, we may come closer to the truth if we try to project known information into a "life event" as I've done here. To refresh your memory, Mary's maiden name has eluded Sherwood descendants and researchers for years. Some names, such as "Fitch", evolved as a result of speculation and error, but those have been proven to be erroneous. It is important to admit that we do not know yet, as there is no proof. As I point out later there may never be proof.
However, it is fair to say, that Frank P. Sherwood and Francis H. Sherwood, the authors of "A Changing America Seen Through one Sherwood Family Line 1634 – 2006" may have either stumbled upon or speculated about a very logical answer to the mystery of Mary. I applaud them. I've searched for information about Mary. Here are the only facts facts that I've come up with that involve her:
THE FACTS
2) Mary Onge was 27 years old when she was a single passenger on the Francis in 1634. She is identified on the ships register, as compiled by John Camden Hotten in his "Original Lists of Persons of Quality 1600 - 1700". She and her family, noted in (1) above, were documented as having lived in Lavenham, by Charles Edward Banks in "The Topographical Dictionary of English Immigrants to New England". By the time Mary arrived in Watertown, her family had already been residing there for approximately 3 years.
3) Mary may have been the daughter of Edmund and Frances, rather than the brother of Edmund as I previously noted. But we don't know that for sure. The "Everyname Index to Genealogies of Watertown" simply states that the mother, "Frances Ong(e) was buried Nov 12, 1638 at age 55. She was probably the mother of Simon Ong, born 1624, of Jacob, and perhaps of Mary Ong, who embarked at Ipswich, Ap, 1634, aged 27." It probably is not important how she was related to the family, simply that she was related.
4) There are a few subsequent traces of both Simon and Jacob. There are references to Simon, placing him on the south side of the Charles River, and to his will and inventory dated November 8, 1678. There are references also to Jacob being in Groton and that he may have married Mary Underwood in May 1670. However, there is no further mention of Mary in any journals relating to early inhabitants of New England, Massachusetts, or Connecticut. Her name disappears.
5) When Thomas married his second wife in Wethersfield, probably sometime between 1635 and 1640, a record might have been made in the church files of the Congregational Church of Wethersfield. However, when the Church split in 1641, the men who left Wethersfield for Stamford took those records with them and they (records) disappeared many years ago, perhaps in the huge town fire in Stamford in the early 1700's that destroyed most of the town. (The publication "Early Connecticut Marriages", by Bailey, in 1982, identifies Stamford as one of 16 colonial towns/churches from which all Baptism and Marriage records are lost. In the case, it specifically notes the year 1635, which designates earlier records than some of the other towns.)
THE SPECULATION
b) There are records of most of the passengers from the Frances and Elizabeth on their arrival in New England. You know from prior emails that we can't prove they all arrived in Watertown, but it would sure appear that way. The fact that the Sherwoods were not identified, while most everyone else was, is intriguing. It may mean one of two things:
- That the Sherwoods left Watertown quickly to follow John Oldham, Robert Rose and their founding group to Wethersfield.
- That they stayed with another family in Watertown for a period of weeks or months (separate from what the other incoming passengers were doing). Could they have stayed with the Onge family?
c) Edmund Onge also died at Watertown and may have even died in 1636 or 1637, preceding his wife. If both Frances and Edmund were dead by 1637, and if Alice Sherwood also died around this time, that might have been a consideration in a decision by Mary to move to Wethersfield.
d) It was only a two to three week trip between Watertown and Wethersfield. (This was documented with prior references I've given you on the "great trail".) That may seem like an eternity now, but in those days it wasn't too bad.
After the Sherwoods moved to Wethersfield, and after Alice died, Thomas had 4 kids on his hands. He needed a new wife quickly. There may have been single women or newly widowed ladies available in Wethersfield, but that is not likely. There were probably no more than 100 resident families at any time the Sherwoods lived in Wethersfield, some of which had been shipmates of the Sherwoods on the Frances and Elizabeth. There isn't any known reference to any widow in Wethersfield named Mary.
e) Mary's maiden name ceased to exist in Watertown and did not resurface anywhere else. Yes, she could have married someone in Watertown, Cambridge, or Charlestown after she arrived. But there was a reasonable chance that she would be identified again, and she would have become footnoted with the name of her husband's family. Let's speculate that the reason she "dropped out" is that she really did leave Watertown for Wethersfield, to join the Sherwood family or to join Thomas, a widower.
Think about it. This would not have caused any unusual notice among other Puritan families if Mary had been a previous friend of the Sherwoods. In fact, there would have been a great deal of continuity in such a situation for both Thomas and for Mary.
f) When Mary died, she did not mention any of her (maiden) family in her will. That was probably often the case in colonial days, but it might make even more sense since her parents had died in the late 1630's and if she had not seen her only living brother for what amounted to 40 years.
SUMMARY: Did Mary Onge become Mary Sherwood? Based upon the few facts that we have, we cannot know for certain. Nor is it likely other facts will ever turn up to prove this relationship. However, if you try to envision the life situation that Thomas Sherwood and Mary Onge found themselves in, this would have been a very possible answer.
Memorial plaque in Wethersfield for Alice Tiler Sherwood, placed in 2008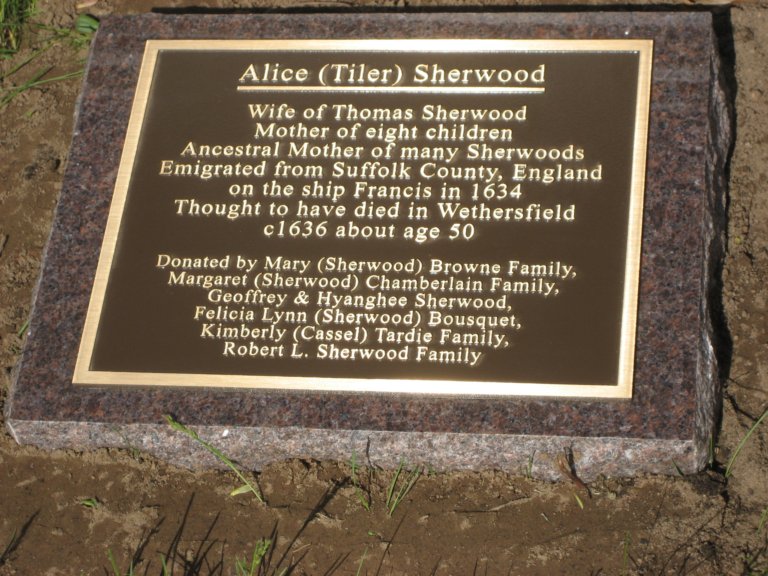 For further details on the location of this plaque, please contact Gene Chamberlain.

THE THREE 17th CENTURY THOMAS SHERWOODS OF CONNECTICUT
by Jura Mclean Sherwood (Copyright 1998)
148 Meadow View Dr, Medford, Oregon 97504, USA
In response to Geoff Sherwood's article in the last "The Sherwood Forest", I'd like to clarify a few points and perhaps put to rest once and for all, the confusion concerning the three men named Thomas Sherwood who lived in Connecticut in the mid 17th century. Two we know, were father and son, the third one's origins remain a mystery, but he was definitely not the same man as Thomas, Jr. son of the immigrant Thomas Sherwood, nor was he the grandson, as has been suggested by some.
I'll begin with Thomas Sherwood born about 1585. We can deduce this by his age given as 48 years in the list of passengers who embarked from Ipswich, Suffolk, England on the "Francis" the last day of April 1634, arriving at Boston, Massachusetts in June 1634. Traveling with him were his wife Alice, age 47 years and four children, Anna (called Hannah in some later records), age 14, Rose 11, Thomas 10 and Rebecca 9. The family didn't stay long in Boston. Thomas went with the first settlers in 1635 to Wethersfield, Connecticut where he sold land to George Wyllys in March 1640. This was probably about the time that Alice died and he then married Mary. Their son Stephen was born about 1641. In 1648 Thomas sold out to John Holly and settled in Fairfield, Connecticut where he remained until his death. His will dated 21 July 1655 was proved 22 Oct 1655. (Invoice of estate of Thomas Sherwood, Sr. taken 7 Sep 1655 - Probate Records of Fairfield County). He names his son and six daughters by his "first wife" as Jane, Tamsen, Margaret, Anna (Hannah), Thomas, Rose and Rebecca. His will further says "to my loving and well beloved wife Mary Sherwood", and names his children Mary, Stephen, Matthew, Abigail, Ruth and Isaac.
Before we leave Thomas Sherwood (referred to as Sr. in his probate), let's set the record straight about his two wives and determine, once and for all, that their last names have never been found.
Alice, who was 47 in 1634 must have been born about 1587. She was not, nor could she have been the daughter of Robert Seabrook and his wife Alice Goodspeed. The marriage between Robert Seabrook and Alice Goodspeed is recorded in the parish registers of Wingate, Buckinghamshire, England 12 Sep 1596. Alice Goodspeed was baptised 19 Aug 1576, the daughter of Nicholas Goodspeed, Jr. and Margaret his wife.
There can be little doubt that Alice, the wife of Thomas Sherwood, Sr. was born nine years before Robert Seabrook married Alice Goodspeed who was then 20 years old. Robert was an early settler of Stratford, Connecticut. (Stratford is significant here.)
An old Fairfield Deed dated 18 Jan 1658 states "John Banks hath married Mary Sherwood the relict." Here it should be confirmed that she was NOT Mary Fitch. Records show that giving her that name was a slip of the pen by a woman writing a Sherwood history. It is unfortunate that this has been recorded by subsequent "genealogists" so often that it is accepted as fact. The truth is, Mary's son by Thomas Sherwood, Captain Matthew Sherwood, married Mary Fitch daughter of Thomas Fitch of Norwalk, Connecticut as his second wife. Her gravestone records her age as 87 when she died 25 Dec 1730, making her birth about 1644 (Thomas Sherwood, Sr. and his second wife, Mary had children of their own by then).
Thomas Sherwood, Jr., son of Thomas and Alice, married four times. His first wife was Sarah Wheeler, daughter of Thomas Wheeler. She died before 1659 when he married Ann Turney, daughter of Benjamin Turney. He married third Elizabeth the widow of John Cable. His fourth wife was Sarah, the daughter of Humphrey Hide and widow of Peter Coley. These marriages are well documented, the last with an agreement dated 24 June 1695. Thomas Sherwood, Jr. died soon after this marriage. His inventory was dated 12 Mar 1698.
This brings us to Thomas Sherwood of unknown origins who lived and died in Stratford, Connecticut. He married before 1642, Sarah Seabrook who was born about 1623 to Robert Seabrook. In 1657 she is mentioned as being 34 years old with a son named John age 4 and an unweaned child. (Even with today's modern medical miracles, this would have been impossible for Alice!)
According to the Stratford records dated 1 Jan 1657, Thomas Sherwood is mentioned as "Having departed this life", His will dated 4 Jun 1657 names his wife Sarah, sons John and Thomas (under 18), dau. Mary. His other daughter, Elizabeth is not mentioned by name in his will. That these children of Thomas Sherwood were the grandchildren of Robert Seabrook can be confirmed by consulting the Stratford Deeds where mention is made of gifts "from Grandfather Robert Seabrook."
The three wills of the three Thomas Sherwoods are clear that Thomas Sr died in 1655, his son Thomas died in 1698 and Thomas of unknown origins died 1657. What's the confusion?
The information regarding the Sherwoods of Suffolk, England that Geoff Sherwood quoted, came from an article entitled "Connecticut Ancestors of Bergen Chapter Members (DAR) 1938 by Mrs. Ella Sherwood. I found this article in the Daughter's of the American Revolution Library about twenty years ago, when I lived in the Washington, D.C. area.
I attempted to find the sources Ella Sherwood used for her conclusions by consulting the Suffolk parish records. The only ones I could confirm were: Thomas, baptized 1 Jan 1541 (not 1540 as she states,) at St. Nicholas, Ipswich. No parents names were given. I also found the baptisms of Edras and Dorcas' children Xfoper (Christopher) 20 Mar 1586and Dorcas 7 Jul 1588, both at St. Nicholas, Ipswich.
Twenty five years ago when I began doing genealogical research, I set my goal as identifying all of my husband's immigrant ancestors. With exception of the two wives of Thomas Sherwood the 1634 immigrant, and three other women whose surnames I cannot determine, I've achieved my goal. Below are some of the sources I've used to reach my conclusions on the Sherwood research. I hope others will continue the search for Thomas, Alice and Mary's roots.
Sources of information:
New England Historical and Genealogical Register Vols. 1 - 148,dated 1887 through 1994. (Vols. 1,14,27,39, and 92 especially.)
History and Genealogy of the Families of Old Fairfield, Vol. 1, compiled and edited by Donald Lines Jacobs - 1932.
History of Fairfield, Connecticut, Vol. 1, by Mrs. Elizabeth Schenck - 1889
Catalogue of Names of the Early Puritan Settlers of the Colony of Connecticut by Royal R. Hinman 1852
Ye Historie of Ye Town of Greenwich (CT) by Spencer P. Mead - 1911
Directory of Ancestral Heads of New England Families, 1620 - 1700, compiled by Frank R. Holmes.
Connecticut Ancestors of Bergen Chapter Members (DAR) by Mrs.Ella Sherwood - 1938
History of Rye, Westchester County, New York by Charles W. Baird
Genealogical Gleanings in England by Henry F. Waters, NEH&GR - 1901
The Original Lists of Persons of Quality, Ed. John Camden Hotten, London - 1874
International Genealogical Indexes - LDS Family History Centers Parish Registers of Wingate, Buckinghamshire, England (GS Microfilm)
Parish Registers of St.Nicholas, Ipswich, Suffolk, England (GS Microfilm).
(Phil Sherwood says: I'm sorry if we gave the impression that Thomas' first wife was definitely a Seabrook. If anyone should come across his baptism ca1585 or his marriage, please inform Jura, Geoff Sherwood or Phil.)

In 2006, a useful e-book was published on the family of Thomas Sherwood 1586 in America: 'A Changing America: Seen Through One Sherwood Family Line 1634-2006' . It can be read as an e-book on Google: http://books.google.com
By Frank P. Sherwood, Contributor Frances H. Sherwood. Published 2006 iUniverse

Early Sherwoods in Australia
Probably the first Sherwood to set foot in Australia was a convict! The following are listed as convicts transported from England to Port Jackson in New South Wales between 1788 and 1820:

Arrived Vessel Where & When Convicted,Sentence,Age
1791 Sherrard, Thomas The Active Middlesex 1788, 7yrs
1803 John She(a)rwood Glatton Bedfordshire 1801 Life
1806 Sherrard, Alice William Pitts Middlesex 1803 7yrs
1816 Francis Sherwood Ocean Northampton 1815, 7,age20
1819 Henry(Harry) Sherwood The Hibernia Southampton 1818

John Shearwood alias Sherwood was descended from John SHERWOOD born 26 June 1669 in Flitwick, Beds. These Sherwoods also lived in Cardington, Tingrith & Eversholt.
Harry Sherwood was transported in 1819 as a convict on the ship Hibernia. His life and ancestry are described by his 3x great-granddaughter, Val Walduck in an article in The Sherwood Forest newsletter No.4 in Dec.1997. He was baptized 4 Nov 1790 at Pirbright near Guildford in Surrey as 'Harry son of William SHERRAT's wife Sarah who dwells with William RUSSELL'. He was convicted, with another man, at Southampton Assizes on 14 July 1818 of stealing sheep from his employer. He was in the dreaded prison hulks until the Hibernia sailed on the 9 Sept 1818, arriving in Tasmania on the 19 June 1819, a voyage of 8 months during which 3 babies were born and 3 other deaths occurred!
Several members of the SHARWOOD family of Old Romney and Rye on the Kent/Sussex border emigrated in the 1840s and have many descendants. In particular John Sharwood b.1818 at Rye migrated to Ballarat, NSW in 1841 and has many descendants in Australia. Also Mary Ann SHARWOOD b.ca1820 Old Romney, Sussex married George BALDICK of Rye, Sussex & emigrated to Australia c1841 and then to NZ. A John SHARWOOD born ca1801in Soho London also emigrated in 1828.
In 1842 the family of Frederick & Jessie Sherwood from Lambeth in Surrey sailed on the Lady Gray from Gravesend and arrived in the Swan River Colony at Perth, Western Australia on 4 Jan 1843, where a number of descendants still live, including Margaret Love who has written their story 'The Sherwood Papers - A Swan River Story'. The family are believed to have come from the Baldock area of Hertfordshire originally. A related family, originally from Baldock also, is that of Lorraine Edwards who says " Charles Sherwood b 21/10/1839 Lambeth Surrey, arrived Australia 1862 aged 23, civil engineer, married 1/12/1872 at Woolloomooloo Sydney. Died 2/10/1923 Sydney.I don't know his ship as he probably paid his fare. His year of arrival is from a state declarn signed by his mother re the loss of Charles's sister at sea, for probate purposes.His sister Elizabeth Sherwood, and brother Henry also came, dont know when, both died unmarried in Sydney. (Charles' father Bailey Sherwood and M. Love's Frederick were 1st cousins.)
Michele Jurlina in NSW Aust. is tracing Robert & Bridget Sherwood who came from Monasterevin, Co.Kildare, Ireland in 1840 as Bounty Immigrants, father Robert and 2nd wife Bridget and 7 children, the first Alice, b 1815 and 25 yo was from his 1st wife. Oldest son William b 1820 married another of the immigrants on the ship, Catherine RYAN from the same town,
Francis Sherwood listed above had many descendants in Australia, but his ancestry in England has never been traced. He was convicted at Northampton Assizes in 1815 aged 20 so must have been born ca1795. He married Susannah MOULDS on 22 April 1827 in St Johns, Parramatta, and died on 23 March 1853 in
NSW, buried St Johns, Parramatta, NSW. It is possible he was born in or near the parish of Irthlingborough nr Northampton where a number of Sherwood families lived & the name Francis occurs in later registers. Phil has also checked the register of Irchester where the names Sharwood & Sherwood occur. Francis & Susannah had the following children:
+2 Joseph M SHERWOOD (1824-1893)
+3 Mary Anne SHERWOOD (1827-1895)
+4 Francis SHERWOOD (1829-1911)
+5 Elizabeth SHERWOOD (1830-1911)
+6 Susannah SHERWOOD (1835-1910)
+7 Charlotte SHERWOOD (1838- )
+8 Simon SHERWOOD (1840- )
+9 William SHERWOOD (1843-1916)
+10 Samuel James SHERWOOD (1845-1916)
+11 James Charles SHERWOOD (1848-1930)
+12 John Thomas SHERWOOD (1851- )
Further details of descendants may be found on Ancestry & RootsWeb.