Who's Who in our Group
Example of our Newsletter
How to Subscribe
An Introduction to The Sherwood One-Name Study Group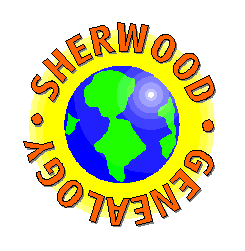 Our study aims to bring together all those interested in the genealogy and family history of the surname SHERWOOD and its variants. A one-name study was registered with the UK Guild of One-Name Studies in January 1995 by me, and a newsletter entitled 'The Sherwood Forest' is usually issued twice a year. Details of all enquiries received are put in the newsletter. Even if you decide not to join, I would welcome details of your Sherwood ancestry to keep on file e.g. a family chart or GEDCOM file, as I may be able to put you in contact with someone related to you. If you use e-mail, we strongly recommend that you post your interests to the SHERWOOD-L surname list on Rootsweb; to subscribe (which is free) just send an e-mail to SHERWOOD-request@rootsweb.com with the single word 'subscribe' in the body of the message.

Accepted Variants of Sherwood:
Sharwood, Shearwood, Sheerwood, Sherhod, Sherrard, Sharrard, Shirwood(e) Sharrod, Shurwood and Shurrud (I have included the main variants as listed in the current version of the IGI but will be glad to hear of other variants which readers consider should be included). I have also seen the name recorded as Sherwell, Cherrett, Charratt etc. although these surnames may have different origins.
What Information does the Group have?
| | |
| --- | --- |
| | Extracts from the IGI (1994 & 1997): All entries for baptisms and marriages in the counties of England, Wales and Scotland using the keywords SHERWOOD, SHERRARD & SHERWELL. |
| | Extracts from the GRO Indexes to Births, Marriages & Deaths in England & Wales from 1837 (This is a very time-consuming project, so I would welcome any extracts you may have!). I also have extracts from the East Kent Marriage Indexes 1538-1812 plus some Somerset House Wills. |
| | British Isles Genealogical Register (BIG-R) 1994, 1997 and 2000 : a database of all those registering an interest in Sherwood & variants. |
| | Extracts from British Census returns for many counties including indexes to the 1851 census for Somerset, Dorset, Wiltshire, Surrey, Hertfordshire, Bucks, Beds, Worcestershire, Gloucestershire, Yorkshire, Oxfordshire & Berkshire, plus many entries for Kent 1841-1891. |
| | Miscellaneous extracts from Parish Registers & other parish records. |
| | I also have the following indexes on CD-ROM: the 1851 census for Devon, Norfolk & Warwickshire and the LDS British Vital Records Index. |
| | A large collection of manuscript pedigrees and family trees, mainly in England, but some for the USA, Canada, Australia, NZ and South Africa. |
| | GEDCOM files donated by Sherwood researchers. |
| | If you are tracing in America, and have not yet 'jumped the Pond' with your line, we recommend that you contact our US representative, Geoff Sherwood who holds much data on American Sherwoods |
Who's Who in our Group
Honorary Chairman:
Dr Philip J Sherwood E-mail:
Group Organiser and Newsletter Editor:
Mr Bryan R Sherwood, Leatherhead, Surrey E-mail:
Contributions to the Newsletter may be e-mailed to Bryan.
North American Representative:
Mr Geoffrey Sherwood, 2 Aynsley Ct., Montville, NJ, USA
07045 USA. E-mail :

Canadian Representative: Mr Ken Parker, 2520 First Ave NE, Salmon Arm BC V1E 2A7. E-mail:
Australian & New Zealand Representative:
Mrs Lorraine Edwards, E-mail:

How to Subscribe
Please contact the Group Organiser at the address above for an application form.