Possible Links between Sherwood Families of East Kent.
In the course of tracing my own Sherwood ancestry back to 1570 in and around the market town of Ashford, I have received a number of family trees for other parts of East Kent which I now believe are linked. I must stress that these links are tentative at present, being mainly based on a balance of probabilities where there are gaps in parish records, and the hereditary use of certain forenames e.g. Francis in particular families. However it is believed that the following families all have an origin ca1613-1670 in Willesborough near Ashford. A John SHERWOOD was living at Sevington nr Ashford from 1580 where he married 3 times in rapid succession, his third wife being Emlyn CASTLEDEN whom he married on 10 April 1591/2. They had a son John baptised 21 January 1591/2 who is believed to have married Jane WINTER in 1619 in the neighbouring parish of Willesbrough. They in turn had a large family who are believed to have started the following families:
SHERWOOD/SHARRARD of Lympne starting with John Sherwood who married Susannah TRICE on 16 May 1742 at Lympne, and had 8 children.
(Descendants & principal researchers: Brian Warboys & Mrs Jenny Marshall)
SHERWOOD of Paddlesworth & Lyminge from 1723. In the 19C the family lived in Faversham, where John Sherwod was a clockmaker & emigrated to Texas in the USA.
SHERWOOD of Hythe & Folkestone which has been traced back to Francis SHERWOOD who married Ann ROGERS in 1715 in Ashford. Francis was probably the base-born son of Ann SHERVILL baptised at Willesborough. Ann was probably the daughter of John & Ann SHERWOOD
(researched by the late Frank Sherwood CMG & published 1985 in the Journal of Kent FHS)
Families which cannot as yet be linked are:
SHARWOOD of Old & New Romney & neighbouring parishes including Rye.
SHERRARD of Barham & Bridge, starting with Richard SHERRARD born ca1780 who married Catherine ca1801. Their first son was born at Eastry & they had moved to Bridge by 1808 where they ran the Post Office an the White Horse Inn. His son Richard was a noted trainer of race-horses.
SHERWOOD of Faversham & Preston, including Robert Sherwood (-), a wealthy cloth merchant who was Lord Mayor of the town 3 times in 1745-50.
SHERWOOD of Charing from 1730, branches later moved to Tenterden and South London.
Descendants of Francis Sherwood who m. Sarah WILLARD in 1777 at Challock & settled in Hythe ca1808.
Maps showing the Migration of Sherwood families
My own Sherwood family from Sevington 1570: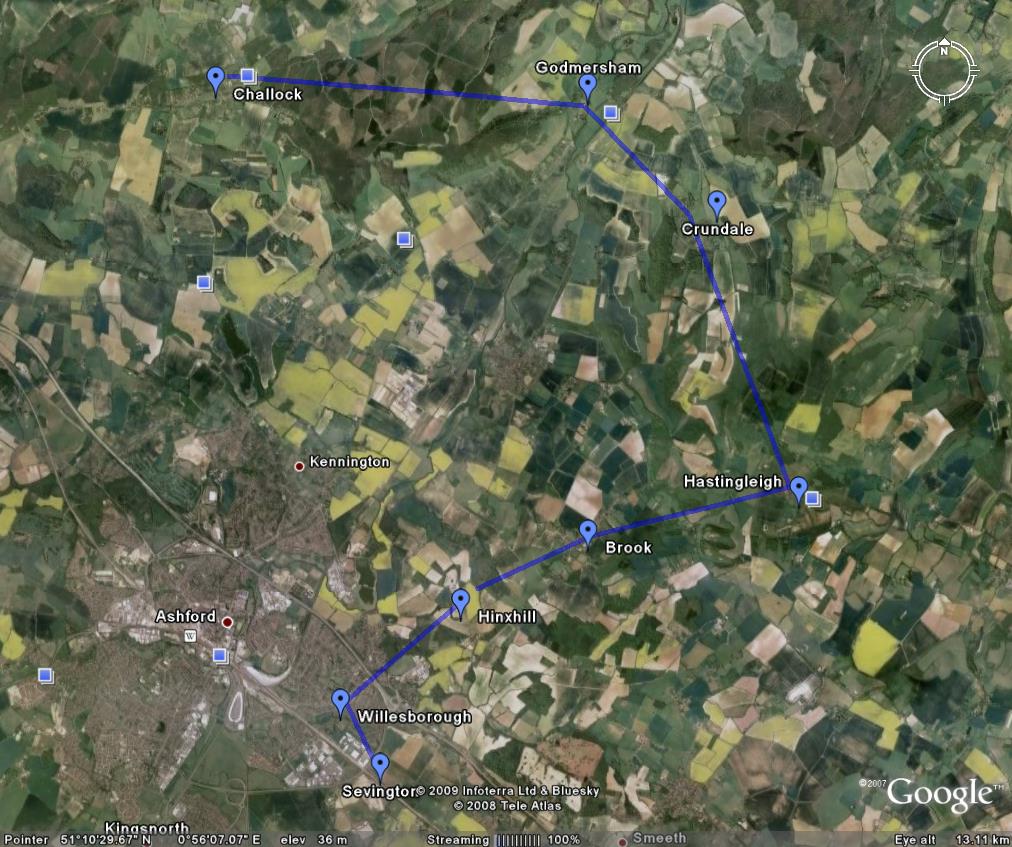 If you have Google Earth installed, you can also view a map showing where the family lived at various times.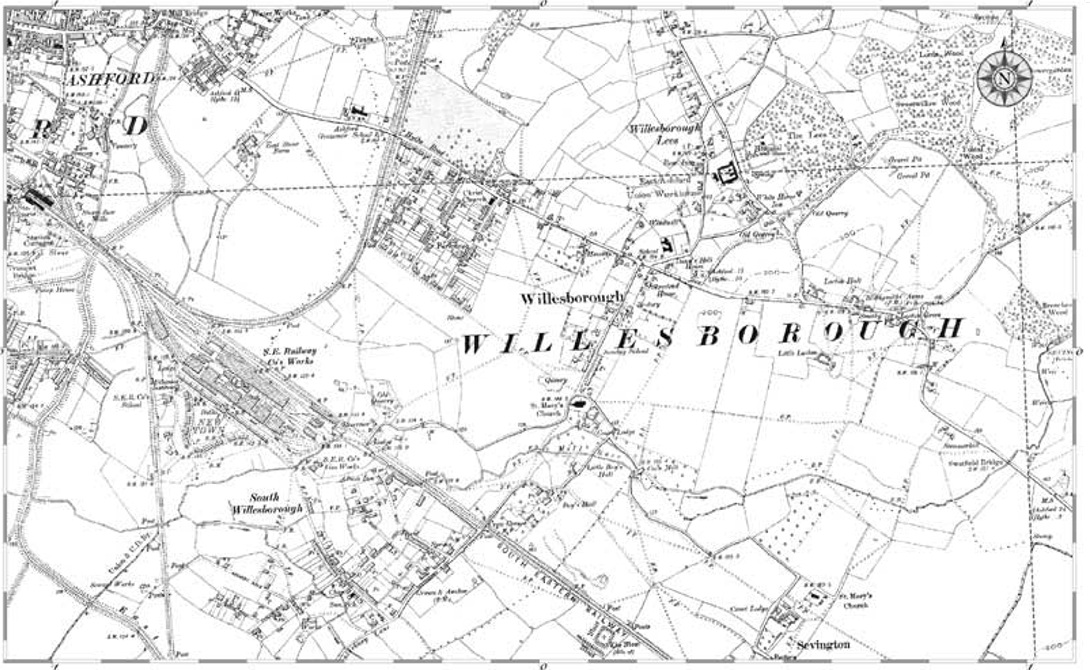 Detailed map of Willesborough in 1896 showing Sevington bottom right.