Trott Gatherings
This page is for announcements and reports on any gatherings or reunions of Trott families throughout the world.
The 2009 gathering of Trott families (see picture below) was held in association with the Trout Family Association on Sunday the 13th September 2009, in the Village hall of Knowl Hill – located on the Bath Road between the towns of Maidenhead and Reading in Berkshire.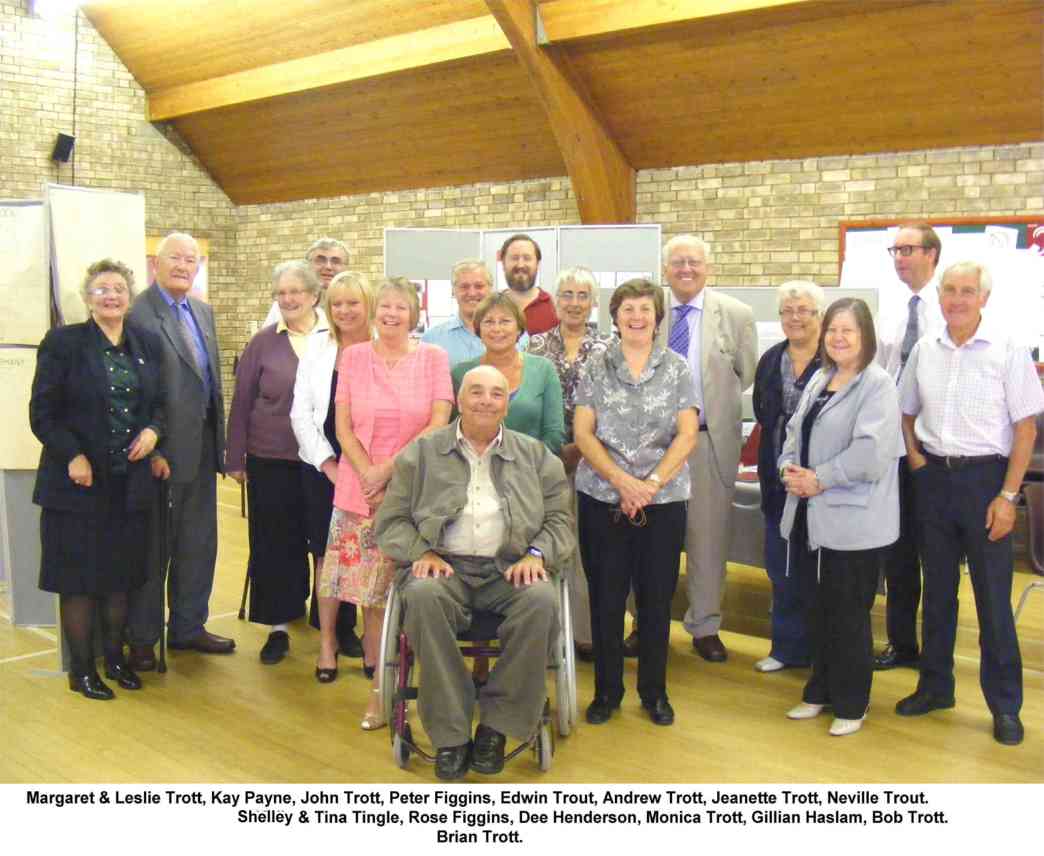 About our 2006 Gathering in England
Thirty members of the Trott One-Name Research Group joined 16 members of the Sherwood One-Name Study Group on Sunday, 3rd September 2006 from 10.00 to 17.00 in Dorchester the county town of Dorset. Dorset contained a large number of Trott families, and several of our members have ancestry in Dorset.

About the Venue
Dorchester is located about 130 miles drive south-west of London with easy road & rail access from that city. It is set in very attractive countryside forever associated with one of England's greatest writers - Thomas Hardy. It is also convenient for visiting the Jurassic Coast of Dorset (a World Heritage Site). Being the County town, it also houses the Archives for Dorset at the Dorset History Centre which is about a mile from the Brownsword Hall.

The venue chosen was the architecturally-interesting Brownsword Hall (shown here) which is the community centre for Prince Charles' Poundbury model village set on the western edge of the town. Lunch was taken at The Poet Laureate Pub next to the hall.
Report & Photos by Stuart Trott
The planned joint gathering for members of the Trott & Sherwood family name groups took place in the Brownsword Hall at Poundbury on 3rd September. Poundbury is the new 'Old' model village set up by Prince Charles and is on the western side of Dorchester town. It is certainly very architecturally interesting to say the least! All the buildings are new but old in style. The whole place was extremely clean and tidy – there are no road signs allowed either, which could make finding your way around the village a little difficult. I made a mistake and turned off the Dorchester bye-pass too soon and ended up in the centre of the old town. It was only by a bit of good luck that I managed to find Pummery Square and the hall.
My drive down to Dorchester on the Sunday morning was not very pleasant. The weather was dull, misty, and wet, quite miserable in fact. Driving down the A31, across the New Forest is usually very pleasant, but not that morning. I was very impressed with Brownsword Hall and especially with the upper room where the meeting was to take place.
I don't think that there were quite as many people attending as there had been at Guildford in 2003. Perhaps the poor weather put off some of those who had intended to go for the day. Phil Sherwood tells me that only about 16 of their group attended, less that last time. Bob tells me that Edwin Trout was also there but unfortunately I did not speak to him myself.
It was very nice to meet people that I had first met six years ago at Taunton. In particular, Helen & Howard Trott, who had driven down from Sheffield and were staying in the area for a few days. Also, Ed was over again from Canada. Unfortunately his wife, Joy was not able to come this time.
It was also interesting to meet, for the first time, Rosemary Figgins (nee Trott) and her husband Peter. I have recently had some email correspondence with her. Unfortunately Kay Payne and Margaret Leech were not able to make it this year. Leslie Trott, one time Newsletter editor, had come from Wigan. On his own this time as his wife Edith was unwell. The day seemed to flash by and I was rather disappointed not to have been able to speak to more people. I did have a chat with Trevor Trott, who is a new member of TONRG. He had travelled down from Halifax with his wife and had also brought his sister, Betsy Carroll, over from Evercreech, Somerset.
At lunchtime nearly everyone walked across the Square to 'The Poet Laureate' pub. A section of the dining area had been reserved for our party. Because we were quite a large group we had to take turns going up to the 'carvery'. I thought the food was excellent but the service a little wanting – perhaps they were just very busy.
The Committee held it's three yearly meeting during the afternoon – in the rather small kitchen. Chairman Bob; Secretary/Treasurer John R T, & members; Edison, Phil Sherwood, John E, his daughter, Gillian Haslam (as a new member), and myself. We discussed the future of the Newsletter (that is where Ed & I got involved). Because of the increased usage of the Internet do we really need to have a Newsletter? The consensus was that we will continue with one and it will be issued to members via the Internet, and in hard copy for those without computer access, as has been the recent practice. We also considered the number of issues per year – should we reduce it to 3 per year or leave it quarterly?
We also considered where and when the next 'Gathering' might take place. Probably in 3 years time but could be sooner if there was sufficient interest. A venue in the Reading or Henley area was proposed, possibly at Reading University. It was agreed to ask Howard Trott if he would be willing to become a member (he has now accepted). By the time that we had finished our meeting and I had spoken to a few more people it was time to pack up and go home.
I am such that all those who attended will join me in thanking Phil Sherwood for making for finding and booking such a pleasant venue. Thanks also to everyone who had been involved for the arrangements.
| | |
| --- | --- |
| | |
| Inside the Hall | Sherwoods & Trotts mingle at the Pub Lunch |
---
The Guildford Gathering – 14th September 2003
Some personal impressions by Stuart D Trott

Well it was more of a double meeting really - Trotts and Sherwoods and unfortunately not all that many of either group. Anyway it was very nice to meet some of the TONRG members whom I had had the pleasure of meeting three years ago in Taunton. It was also nice to meet a couple of people who, so far, I had only 'met' via the Internet. I had been looking forward to meeting Margaret Leech, but unfortunately she was unable to travel from Woodbridge, Suffolk due to a foot injury. Although there were not all that many TONRG members there this time, less than 20. Margaret Leech has told me that there were about 130 people at the first TONRG gathering held in Woodbridge, Suffolk in September 1988.

England, as a whole, was well represented with members from all points of the compass. John, the treasurer, came up from Plymouth with his son, Simon and his sister, Jeanette Nichols. I think that their journey was probably the longest, although Leslie & Enid would have had to drive almost the same distance from Wigan. The other John came over from Kings Lynn, with his daughter, Gillian Haslam. Howard and Helen, from Sheffield and Brian and Monica, from Exmouth also had long journeys.

From a purely personal point of view, I was very happy with Bob's choice of venue in Guildford as I live only 18 miles away. Jane Terry and Janet Berry also did not have far to travel either ('Terry & Berry' - I'd not noticed that before!). Bob, of course, was almost within walking distance! Janet Berry asked Bob if she could be notified well in advance of the venue for the next Gathering so that she could move there. This was because she had been living near Taunton in 2000 and had recently moved to the Farnborough area, just in time for the recent meeting! Helen, from Sheffield, told me that she went into Guildford in the morning and enjoyed her visit to the old Norman castle and admired the floral display in the grounds.

I did not gain any specific information that I could add to my own Family Tree (My original ancestors came from Elworthy and Willet, a few miles north of Taunton but left there around 1850). I did, however, pick up a few useful bits of detail to add to my Trott database tables (Births, Marriages, Deaths & various censuses). I hope that the other members had more success.

I was astonished how the time flew, just chatting to other members and looking at their displays. You always think afterwards "Oh, I wish I had spent a bit more time talking to so and so" or making more notes. I never did get round to speaking to any of the Sherwood group, other than Phil. I did, however have an interesting chat with Edwin Trout from Reading. It does seem very likely that his Trout ancestors could have been originally Trotts, as the locations for the two groups tend to overlap, especially in Devon. The TONRG committee held a short meeting to discuss a number of items.

I would like to thank Bob for all his time and effort in making the arrangements and booking the hall, it turned out to be just the right size too. Some of the Trotts who attended are shown in the photograph below. As you can see we were blessed with glorious hot sunny weather.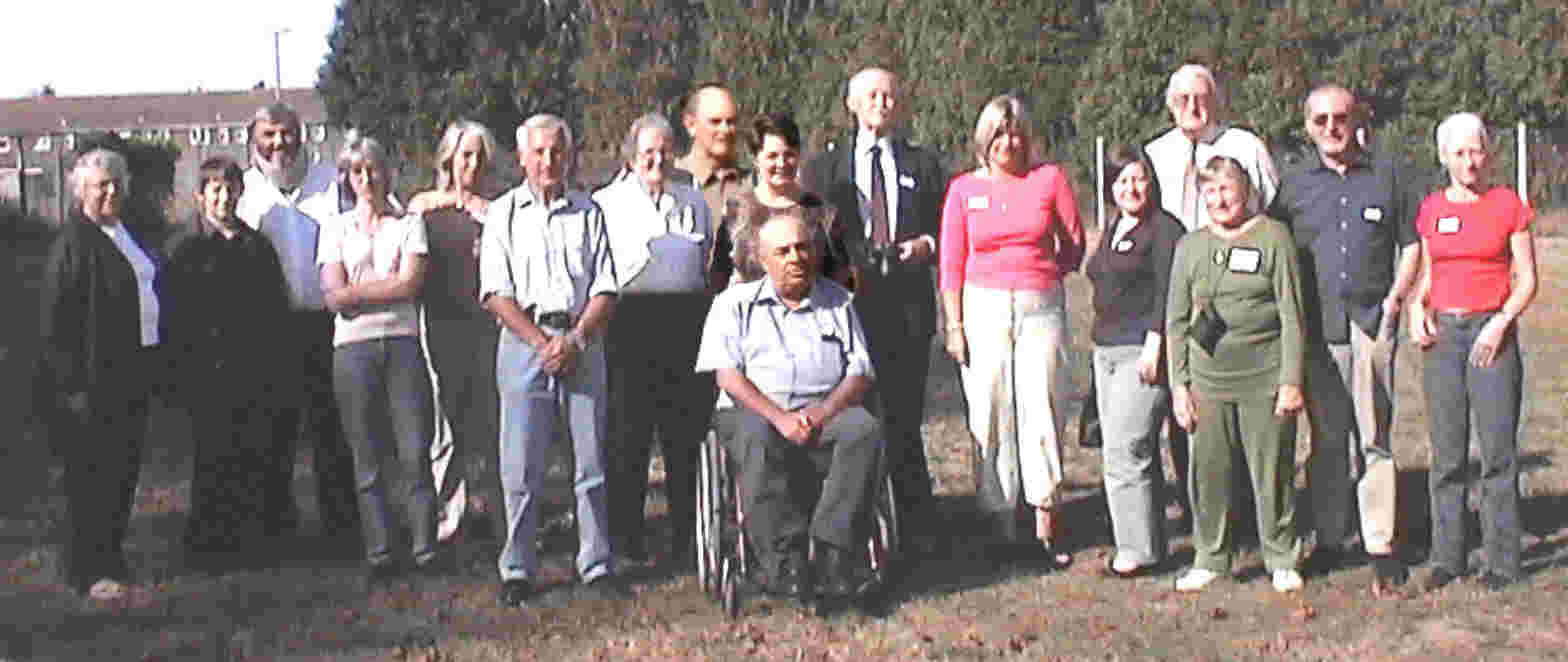 ---
A report of our gathering in 2000, with photographs can be seen on Phil Sherwood's site.