Publications about Sherwood Families.
'A Forest of Sherwoods' by Brenda A Sherwood. Including Shearwood and other spellings of the surname families from Dorset, Hampshire, Wilts, Berkshire, Surrey and Yorkshire etc. with a comprehensive index of other surnames. Price £16 inc. p&p in UK from the author at B A Sherwood, 22 Sherwood Gardens, Sarisbury Green, Southampton SO31 7SZ. E-mail for further details. Brenda is a member of our Sherwood Study Group.
"Brenda has reconstructed many family trees from a wide range of records. If your Sherwoods lived in any of these counties, you will find this book invaluable." - Phil sherwood
From a review of the book in The Greenwood Tree S&D FHS, Feb 2008 p.27 by Colin Dean: "There are occasional family trees & descriptions of families e.g. Hugh Sherwood was head of Bruton School in 1519 but using his schoolhouse as a malthouse annoyed the locals in 1548!... a great example of sharing the fruits of your labours" There is a copy in the Society Libary at Sherborne.


'The Sherwood Papers - A Swan River Story'
by Margaret Love
The Sherwood Papers is the story of a family, just one of the thousands who in the eighteenth and nineteenth centuries left a distressed England for America and Australia. When Frederick Sherwood emigrated to the Swan River Colony in 1842 he could never have imagined that his story would provide the stuff of an important pioneering history. He could never have envisaged the struggles and hardships that he, his young wife and their eight children would have to overcome in order to establish themselves in a strange new world.
This is much more than a family history. It is a universal story of the disorientation and disenfranchisement of the pioneer, of the initial dislocation to lives and of the final re-adjustment. These emigrants had brought with them their 'Englishness', their dreams for a better future - and a whole scheme of manners and beliefs that were of little use in a strange and sometimes frightening wilderness. In order to survive they had to adjust their minds and re-shape their expectations for a very different way of living. This is a tale of survival, of persistence against the odds - and of the way that ordinary people coped in extraordinary situations.
A NEW revised edition of this book is now available. 330 pages, 189x246 mm hardback, profusely illustrated with photographs and drawings.
For further details please email Margaret Love at lovem02@bigpond.com or write to her at:
30 Brockman Avenue, Dalkeith, PERTH 6009 Western Australia.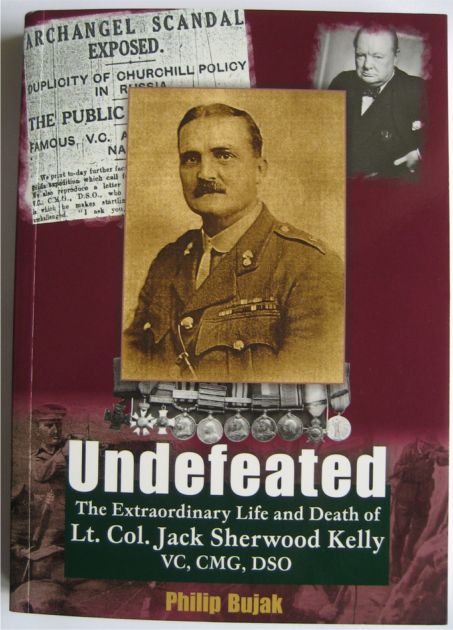 'Undefeated - The Exraordinary Life and Death of Lt. Col. Jack Sherwood Kelly, VC, CMG, DSO' by Philip Bujak, published 2008 by Forster Consulting ISBN 0-9551902-2-3. Price £9.99 plus £2 p&p from KellyVC@hotmail.co.uk or a local Waterstones book store.
"Today a new Major joined us, a Herculean giant of South African origin with a quite remarkable disregard for danger" The Regimental Diary of the Kings Own Scottish Borderer's, July 1915
" Philip Bujak has told a lucid & masterly tale of Lt Col. Kelly VC, the supreme fighting machine - a real live video game hero... . The rounded narrative of of this true warrior is told against the backdrop of the British Empire's turbulent & violent decline. An officer who knew the difference between compliance & obedience, his book is a timely reminder to politicians & servicemen engaged in prosecuting ' other useless, aimless & ill-mannered campaigns'. Lt.Col. Christopher Keeble DSO, parachute Regt.
"Brave as a lion, stubborn as a mule & as quick tempered as his Irish forebears, Kelly VC spoke out against Churchill's support of the White Russians in 1919", (for which he was court-martialled). Keith Simpson MP for Mid Norfolk & former Lecturer RMA Sandhurst.

Although not strictly a publication, the Sherwood Collection of George F T Sherwood at the Society of Genealogists Library in London should not be forgotten. Started around 1888 and completed in 1958, this was the first recorded attempt at a One-Name Study on our surname. George was a professional record agent and here is his introduction:
SHERWOOD GENEALOGY – A short description of a collection of evidences (more or less authentic) illustrative of the genealogy of persons bearing the surname Sherwood, from the twelfth century to the present time.
"If ye shall reape that profit by my paines, as may procure your favourable acceptance, have my full wish. – Robert Sherwood 1650. Preface to the English-French portion of Cotgrave and Sherwood's Dictionary."
In printing this circular, the writer has two objects in view – the first, to make known the existence of the Sherwood Collection, - the second, to induce others to form similar ones relative to their own names…. It has been a labour of love for some years past to collect all available knowledge relating to this somewhat uncommon surname. The results of an examination of innumerable Indexes, Books, parish registers, Wills, MSS, and other records, and the kind co-operation of several correspondents, is the amassing of a great deal of information regarding the various branches of the family. My books now contain references to between three and four thousand individuals named Sherwood, located in all parts of this country and abroad from the 12C to the present time. …. Genealogists are respectfully asked to communicate with the writer if they find references to Sherwood in printed books, newspapers or magazines – MSS either in private hands or in public collections – or if they personally know any facts, traditions or anecdotes in connection with persons bearing the name. Names and addresses of living Sherwoods or persons likely to be interested will be very acceptable…. In exchange for any jottings, it will give me much pleasure to refer to my own private collection for names in which correspondents are interested. The indexes to this embrace references to some 80,000 names, principally of value to students of Berkshire and Middlesex genealogy.
Sherwoods will confer a favour by furnishing any details..(of) their respective families; dates of birth, marriage and death, their trades, professions, places of abode etc. Copies of autographs, portraits, photographs, newspaper cuttings, bookplates, seals, original papers and documents in which Sherwood figure; in fact anything likely to interest posterity, will be appreciated and arranged in permanent form. If your branch bears, or has borne a coat of arms, a description or sketches will be valued. It is my aim to compile… pedigrees of every branch of the Sherwood family, connecting them where possible, and bringing them down to the present time. … In conclusion, my intention is to bequeath the results of these inquiries to the British Museum Library… there to be consulted by those who come after us an are possessed of the laudable desire to know at least who their ancestors were, and in some measure to know of their doings. To that happily increasing class to whom such an object will commend itself this appeal is especially directed.
G F T Sherwood, 99 Angell Road, Brixton, London SW. April 1895.
(The original can be seen in seven bound volumes at the library of the SoG. Fortunately, the Mormons have microfilmed it, so you can all have access by borrowing a microfilm copy through your local LDS Family History Centre. The reference in the FHL catalogue (which is online) is: Collections Relating to the surname of Sherwood by Sherwood, George F T on 7 microfilm reels Numbers 208599 to 208605).