Maps of Seagroatt Locations
The two maps below are from the 1881 census Surname Atlas CD, and show actual numbers in each Registration District.
| | |
| --- | --- |
| | |
| Seagro(a)tt & Segrott. Segrott was clustered in the Newmarket area (Brinkley & Ousden) and also in Lambeth. No Seagroatts were living in Norfolk, they had all migrated to the Poplar area of London. | Distribution of Secret(t). Note clusters around Lowestoft in Norfolk, Colchester in Essex and the Barnet area of N London. |
The Seagro(a)tts who lived around Newmarket and Bury St Edmunds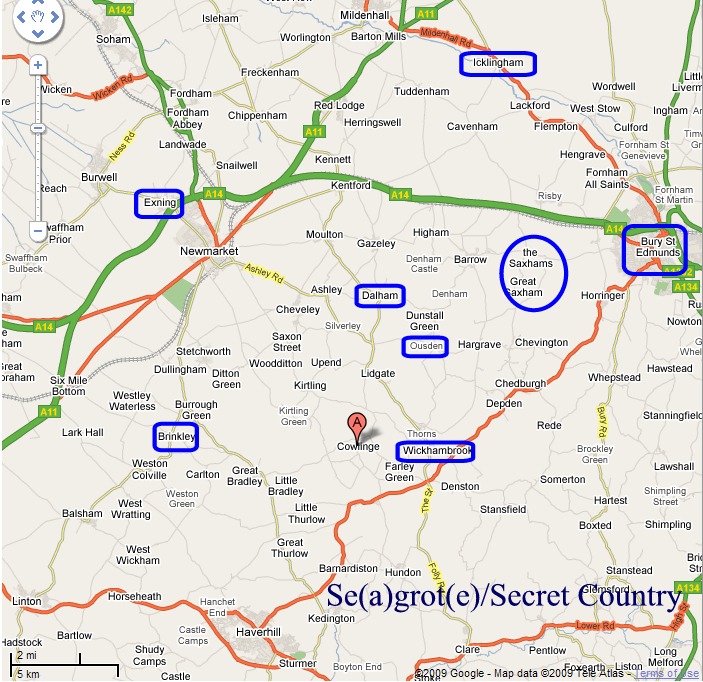 Early Occurrences:
1582 Grantham, Lincs: Willm SEGREETE s/o John bapt.
1612 Icklingham: Christian SEAGROTE m. Anthony GOSNOLD (cousin of Bartholomew Gosnold, pioneer)
1631 Norwich St Stephen: Jane SEAGOTT m. Adam BROWN
1643-47 Bury St Edmunds: children born to Roger SEGRODT/SECRET, Gentleman, including a Gosnold SEGRODT who moved to London ca1675.
1640 to 1800 SEGRED & SAGROTT at Thetford, Norfolk.
1675 Roger Segrodt, Gentleman of Cowlinge
1675 Gt Yarmouth: Clara SEGRETT m. John BUGDEN
1688 Ousden: Arnold SEGROTT m. Grace TURNER
1688-1851 Segrotts at Ousden, Ag labs or Shoemakers.
1725-30 The Saxhams
1755 Dalham: John SEAGROT m. Ann LAST
1818-1901: Brinkley, Cambs.
In the 1901 & 1911 census, Annie Seagroatt & her family were living at 2 Beaconsfield Terrace on Archway Road, Highgate, where she ran a Laundry business. On the map below, it is just north of Baker's Lane.